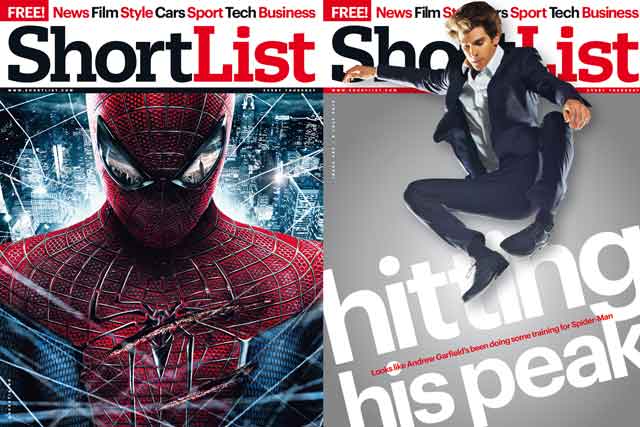 Everyone knows that regional press is long-suffering, so any insightful innovation by regional publishers to boost their revenue stream is welcome. Northcliffe Media has done just that by launching a new marketing agency aimed at local businesses. Digital Response is a spin-off from Northcliffe Digital that offers internet marketing strategies. By pooling regional expertise into a new business arm, Northcliffe is innovating while other regional media owners are panicking, and that deserves praise.
ShortList Spider-Man web wrap
We like the fact that ShortList Media consistently works hard to create desirable opportunities for advertisers (so much that it was the joint winner of the Print Sales Team of the Year at last year's Campaign Media Awards). This week, its flagship title, ShortList, includes a special coverwrap to promote the release of The Amazing Spider-Man. ShortList teamed up with Sony Pictures and its media agency, Manning Gottlieb OMD, to create a latticed, leather-effect, glossy coverwrap that will allow readers to "feel" Spider-Man's costume. We're looking forward to our Thursday morning commute.
Girl power at the IPA
We hear that this week's Women In Work event at the IPA went down a treat with those glass ceiling-smashing female bosses who attended. The advertising body decided to host the event on the back of shocking IPA Agency Census figures that show only 13.5 per cent of chairmen, chief executives and managing directors at IPA member agencies are women. Roisin Donnelly, the head of marketing at Procter & Gamble, discussed how female psychology can create barriers of its own, while Kathleen Saxton, the founder of The Lighthouse Company, revealed golden nuggets of insight that only a top headhunter would be party to. More of these, please.
AND ONE THING WE DON'T ...
Tony Blair editing the London Evening Standard
We may be cynical journos, but we have never been a fan of the "guest editor" move. In case you have ever bought into the idea, guest editors never actually edit the title - they just write a few hundred words from their castles and rely on actual journalists to do the work, while their face adorns the publication like chicken pox sores. But when we heard that the Standard last week invited Tony Blair to guest-edit, we were beside ourselves. The Standard's editor, Sarah Sands, said: "I hope readers will enjoy today's paper, which gives an international statesman's perspective of the world." Indeed it did, but perhaps not the perspective people expected. "I went to the men's room for a pee (in Singapore) and was standing next to a bloke I assumed was British," Blair began one story. If you haven't already read the rest, you don't need to.