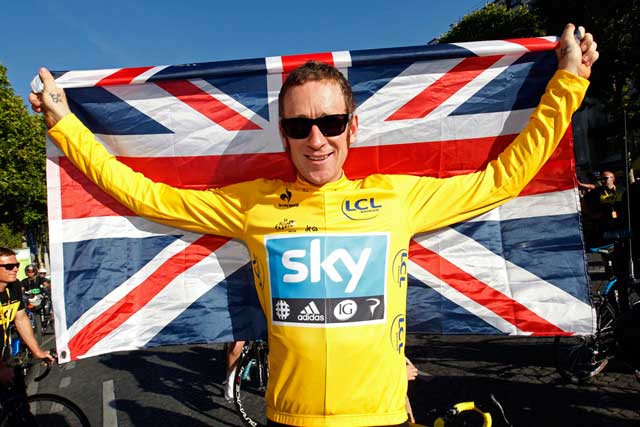 This week, we are enjoying (a little too much) a Twitter tracker that monitors the 25 Olympic sponsors and rates how popular each brand is on Twitter during Olympic fever. The clever thing about this tracker, co-created by MediaCom and Brandwatch, is that it not only works out how many mentions the brand gets - it also factors in the sentiment of the Tweets to deem how popular a brand is. This is a neat tool that will offer interesting insights into how sponsors that have invested millions in the Olympics are being perceived by the public. Worryingly for McDonald's, the brand came bottom in last week's round-up, while British Airways was top.
Team Sky on ITV
While Great Britain was delighting in Bradley Wiggins' historical Tour de France win last weekend, no doubt Sky executives were also grinning ear to ear that their brand was being beamed out on ITV1 and ITV4's Tour de France coverage, which reached 3.6 million viewers. Even Sky's chief executive, Jeremy Darroch, featured on camera in a Team Sky support car, which we think is very sportsmanly of ITV. The fact that Wiggins has also achieved Team Sky's ambition of winning the Tour de France two years ahead of the five-year schedule makes the sponsorship an even better investment, as it's possible Team Sky could do the same next year and the one after if they continue to progress so well.
Channel 4 goes mad
It's about time that a TV broadcaster made a concerted effort to raise awareness of, and break the taboo surrounding, mental health issues. Channel 4 is doing this not only through a one-off programme - Ruby Wax's Mad Confessions - but a big, bold series this week, which focuses on a range of individuals who live with mental health difficulties. Helping to bring these issues out of the closet was the gutsy and talkative comedienne Wax, who has suffered from depression. We like the fact that the broadcaster worked with the anti-stigma initiative Time To Change on the series to get it right.
AND ONE THING WE DON'T ...
Olympic congestion
The weather is heating up, the Tubes are getting stuffy and, with all this talk of train strikes during the Olympics, we are starting to dread the commute to work. M&C Saatchi's creatively spot-on Transport for London campaign may have made us smile in the stress-free weeks leading up to the sporting event, but now it feels like an unsettling omen predicting that you'll ascend the escalator at Victoria Station with six broken toes. If you haven't been clever and booked a holiday for at least some part of the Games, it's time to sweet-talk your boss into working from home.