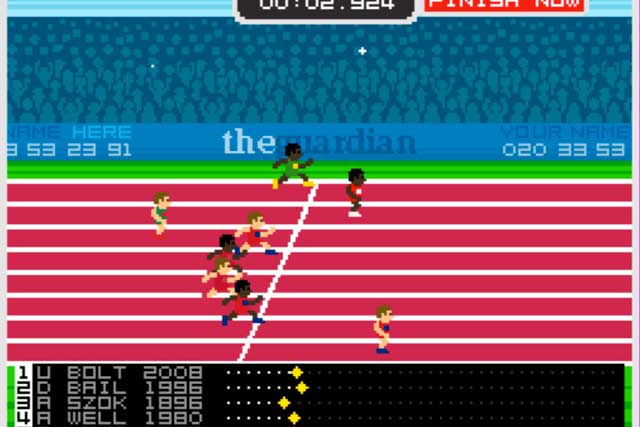 Time Out is set to move to a free content model and has tested the water with an app sponsored by MasterCard that combines editorial features with up-to-date listings.
A personalisation function results in user preferences being collated over time to generate recommendations of suitable activities. Timed perfectly for the Olympics, its publisher could be on to a winner.
The Guardian's Could You Be A Medallist? game
We used to love playing those 8-bit 80s video games that replicated Olympic events (Daley Thompson's Decathlon, Track & Field etc). With such fond memories of keyboard mashing, it has been a treat to get stuck into The Guardian's homage to these classics (http://tinyurl.com/ctq2r2v), which allows users to compete in track, swimming and cycling events. Even Usain Bolt won't beat our 7.82 seconds for the 100m sprint.
Olympic common sense over Nike ads
Olympic organisers and sponsors may have faced some criticism over empty seats, ticket allocation and restrictions on marketing for local businesses, but LOCOG's decision not to take action over Nike's press and poster campaign, which uses lines such as "Greatness doesn't need a stadium", should be applauded. This leaves Adidas to focus on its own official activity, which includes its excellent Metro coverwrap campaign, and draws a distinction between ambush marketing that infringes rules and advertising that clearly does not.
Weatherfield Gazette online
ITV's online content is improving and it's doing plenty on ITV.com to keep fans of Coronation Street happy.
This week, it launched a fitting tribute to the Corrie legend Geoffrey Hughes after the actor who played the binman Eddie Yeats passed away. ITV.com devoted the front page of its Coronation Street news page, the Weatherfield Gazette, to a great picture gallery of his best moments in the Street. Fantastic nostalgia that should deliver big hits to bring in the ad revenue.
AND ONE THING WE DON'T ...
Johnny Vaughan on Absolute Radio
Cheeky chappy Johnny Vaughan has us reaching for the off switch. Having rather suddenly left his job as the breakfast DJ at Capital FM in November last year, Vaughan has now re-emerged hosting a daily special on Absolute Radio. Ostensibly, it's dedicated to the Olympic Games (Vaughan used to have a British bulldog, remember), with him interviewing athletes and comedians on the big events of the day. Except he isn't - he's just doing that shouty routine that he used to do on the telly years ago, talking about himself. The show's difficult to miss, too, given it's then repeated across the entire Absolute Radio network later in the evening.