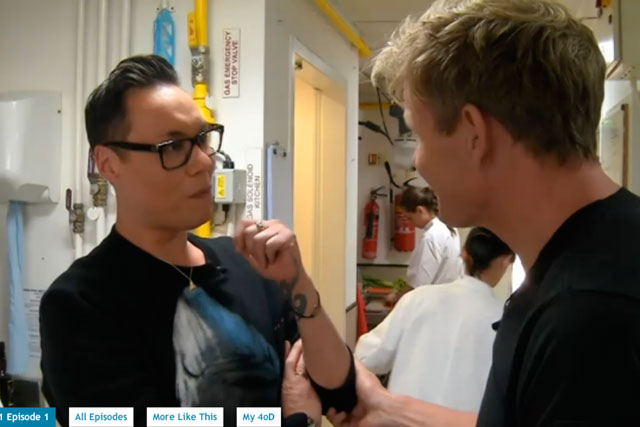 The TV listings site TVGuide.co.uk is offering a new sponsorship opportunity for brands dubbed "Show Interstitials", and OMD has arranged for its client Channel 4 to be the first to try it. For the next three months, Channel 4 will have its programmes promoted every day across the guide's iPhone and iPad apps. When users access their apps, a full-screen ad promoting the broadcaster's evening shows will appear while the app loads in the background. TVGuide.co.uk, which was set up five years ago, claims to have more than five million users across its mobile platforms.
- Paddy Power's Ryder Cup 'sky Tweets'
Credit must go to Paddy Power for the best branding activity during last weekend's Ryder Cup. The brand's aircraft stunt, which involved 40 Tweets from fans of Team Europe being "written" in the sky by planes, blew the opposition away in what was an otherwise-uninspired competition for the best Ryder Cup-themed ad. Messages that appeared above the Chicago golf course included "Spirit of Seve" and "Mrs Dufner is hot". Well done Paddy Power and its agencies, Crispin Porter & Bogusky and M2M, for their support campaign.
- The Outdoor Media Centre's Olympic brochure
The outdoor trade body has produced a brochure that highlights the creative and spectacular way that outdoor media was harnessed during the Olympic Games. We are glad that someone has taken the time to do this. The mainly visual brochure is a useful and inspiring record of what is possible through the medium of outdoor. It has been sent out to agencies and sponsors of the Games, but we reckon everyone should go to the Outdoor Media Centre's website to take a peek. As Mike Baker, its chief executive, says: "There were more wraps (buses, taxis, buildings) than you could shake a stick at."
AND ONE THING WE DON'T ...
- Hotel GB
Channel 4's sponsorship of TVGuide.co.uk may have impressed us, but its new series, Hotel GB, has left us traumatised. You can almost imagine the scene in Jay Hunt's office - "How do we showcase all of Channel 4's on-air talent in one place?" its chief creative officer ponders. At which point, someone replies: "I know - let's put them all in charge of a hotel, carrying out various functions loosely related to the other TV shows they present. And we can also chuck in some unemployed people and a charity, thereby giving it a supposed public service broadcasting element." And, lo and behold, the car crash that is Hotel GB was born - possibly one of the most baffling and ill-conceived formats in the history of British television, which sees Kim Woodburn running the housekeeping, Gok Wan behind the bar and Phil Spencer as the maitre'd.