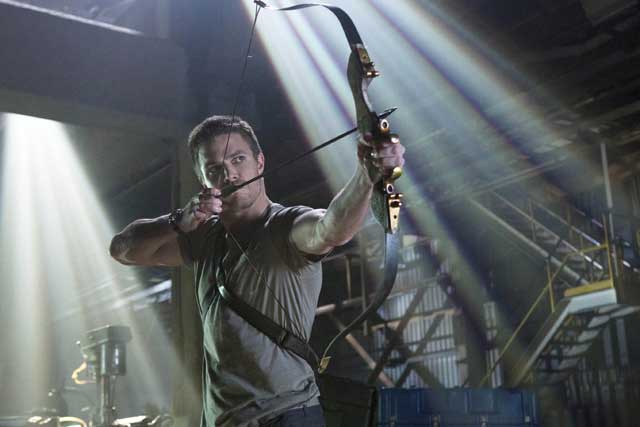 MediaCom's tie-up with RTAd
MediaCom has signed up as the first media agency to use a new broadcasting platform that manipulates TV advertising content in real time. Launched by the newly created Real Time Advertising, the technology allows advertisers to vary a promotional offer, graphics, audio tracks or ad copy at short notice if factors such as the weather, social media, news or sports results demand it. RTAd also extends the offering to other media. MediaCom has signed up on behalf of its client BetVictor for its Premier League football campaign on ITV's digital channels and Sky Sports.
Square Enix's sponsorship of Arrow on Sky1 HD
The Japanese video-games-maker Square Enix has secured the sponsorship rights to Sky1 HD's new superhero drama Arrow, thanks to the media agency Manning Gottlieb OMD. The story of Arrow, which is based on characters from DC Comics and is described as a cross between The Dark Knight and Smallville, will no doubt appeal to many of the video-games fans Square Enix is hoping to attract. The series stars the British actor Colin Salmon.
Channel 4's Stand Up To Cancer programming
Last week, Channel 4 joined forces with Cancer Research UK for a run of special programming across its channels to raise money for Stand Up To Cancer in the UK. Celebrities such as Cheryl Cole, Lewis Hamilton and Bradley Cooper joined in on the live fundraising show on Friday. Hosted by Davina McCall, Alan Carr and Dr Christian Jessen, the show included music, comedy and pulled on the heartstrings with real-life stories, resulting in the charity raising more than £6 million. Nice work.
The launch of Monocle Cafe London
Tyler Brule, the founder of Monocle magazine, is often to be found macchiato-in-hand as he gamely scouts the world's hottest coffee houses for his readers. So it is fitting that the title is now launching its own cafe in London. Following the publication's first cafe launch in Tokyo last year, Monocle Cafe London opens on Chiltern Street in the new year. It's a fun and clever brand extension for Monocle and gives London's hipsters a new place to show off their loafers.
AND ONE THING WE DON'T ...
The return of Surprise Surprise
We were awfully surprised (aha!) when we first heard that this programme was being resurrected from a dusty ITV backroom. And the proof is in the pudding, which seems to have sunk on its first airing. It seems strange that, in an era when social media and online ancestry websites mean it takes just a bit of effort and some clicks to be reunited with long-lost relatives, this format would be deemed gripping material for mainstream weekend TV.