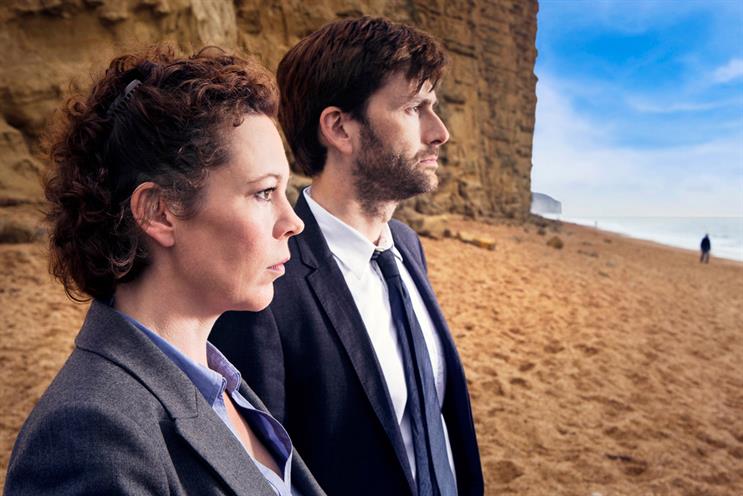 Broadchurch on ITV
The eight-part series has steadily grown in popularity, with the concluding episode on Monday night attracting more than seven million viewers, an audience share of around 30 per cent – which isn't half bad for a weekday drama. The finale was deftly promoted with teasers and a Twitter hashtag; and the fact that West Bay and Bridport, where the series was filmed, have already experienced a tourist boom proves that the programme has worked its way into the national psyche.
The Telegraph's Toolkit 4.0
Hot on the heels of its metered paywall, Telegraph Media Group continues to grab the attention of agencies – this time with its "Toolkit 4.0". The interactive mock-up of The Daily Telegraph hit agencies last week, showcasing some of the creative ad formats now available across its print and digital portfolio. It is embedded with Blippar technology and includes the Telegraph Challenge competition, offering agencies the chance to win a £100,000 campaign for a client and a personal prize of £5,000. More details can be found at www.telegraph.co.uk/challenge.
Amscreen programming deal
Now it has captured our attention with a new audience measurement system, Amscreen is raising its game on the content side. CONTENTed, a new sponsorship company led by the former talkSPORT leaders Adam Bullock and Moz Dee (pictured), plans to introduce talent-led, short-form sports and entertainment programming across its network of 6,000 screens. Expect Dee's little black book of celebrities to be working overtime in the coming months.



And one thing we don't…
Google's tax policies
There are concerns that Google is struggling to show the leadership qualities you'd seek in one of the world's biggest companies, as questions about how it minimises its tax bill continue to linger. Google pays little tax in the UK, noting that the digital economy is global and that it is a US corporation. But it has now been revealed that Google paid tax at a rate of only 8 per cent in the US in the first quarter. Its chief financial officer, Patrick Pichette, admitted this low rate had been achieved by a "shift in earnings between domestic and international subsidiaries".

Send suggestions for 'Things we like' to Arif Durrani @DurraniMix