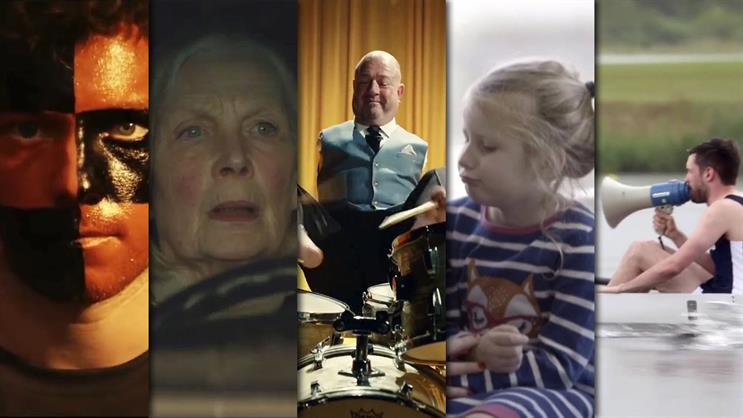 1. Betfair "Ready?"
An epic montage here from Betfair, which is seeking to differentiate itself from the humour deployed by many advertisers in this sector. Instead, it evokes the heroic in sport, with lavish close-ups and dynamic editing. Only the best athletes have the knack of delivering something special in extremis – that's what makes sport so compelling, and why punters want a stake in the game. For Betfair it boils down to a one-word question: "Ready?
Creative agency Lucky Generals Creative team D Brooke-Taylor, N Bird, L Smith, B Martin, K Peters Client Paul Gambrill Production company Serious Pictures Director Walter Campbell
2. Cancer Research UK "Right Now"
Inspired by the emotional power of documentaries such as 24 Hours in A&E, Cancer Research UK has produced a series of films focusing on the real-life treatment stories of ordinary people. No actors or scripts were used, and this commitment to authenticity helps bring home the fact that cancer will affect most of us at some stage in our lives. Here we see Deborah staying positive, for herself and her children, as she takes part in a drugs trial.
Creative agency Anomaly Creative team Oli Beale, Nick Bird, Lee Smith Clients Anthony Newman, Clare Moore Production company The Garden Productions Director Henry Singer
3. Channel 4 "We're the Superhumans"
Channel 4 decided to use its promo for the 2016 Rio Paralympics to change broader attitudes to disability. This film sets out to prove that any disabled person can be a "Superhuman", whether they're an elite athlete or somebody going about their everyday life. In showing some of the incredible things disabled people can do, it challenges us to forget what we think we know about disability and celebrate their ability.
Creative agency 4Creative Creative team C Bovill, J Allison, A Tonge, R Biggs, J White Client James Walker Production company Blink Productions Director Dougal Wilson
4. Esso "Sophie's Journey"
The brief here was to develop a softer side to the brand. The agency came up with a mini road movie, following a woman of advancing years as she drives across the US in search of a lost love. We see her sleep in the back seat of her car, take breakfast with truckers, pick up hitch-hikers and change a tyre by the side of a desolate prairie highway, before reaching her goal. As the pay-off says, Esso makes possible "Journeys that matter".
Creative agency Adam & Eve/DDB Creative team Ben Priest, Paul Cohen, Simon Lloyd, Ben Tollett, Richard Brim Client Louise Leavy Production company Somesuch Director Nick Gordon
5. Samsung "School of Rio – Rowing"
In this episode of comedian Jack Whitehall's series of Olympic sports masterclasses, he asks gold-medallist Helen Glover to put him through his paces – and wonders why she brought her "dad", Olympic legend Sir Steve Redgrave. The pay-off is that Samsung phones, like rowers, have durability and elegance. Unlike Whitehall, who gets a sore arm from holding up the megaphone he uses to bark instructions at Redgrave.
Creative agency BBH Sport Creative team Ewan Paterson, Jack Smedley, George Hackforth-Jones Client Benjamin Blanco Production company Rattling Stick Director Gabe Turner
Want to see more great work? Head to the Thinkboxes hub
---
A view from Academy Member...
Becky McOwen-Banks, Creative director, FCB Inferno
With the Olympic and Paralympic highs of the past few months, it feels natural to celebrate performance.
Channel 4 had a big job on its hands with the "tricky second album" of promoting its coverage of the Rio Paralympics, but raised the bar to take performance way beyond the sporting arena – broadening the appeal and ensuring it will cut through all the other sports mania around. Bravo. A moving, big-thinking performance piece.
The other piece deserving applause was BetFair – the ambition and epic delivery of the pre-event story is well-crafted – so much so that the brand name at the end comes as a bit of a surprise. Beautifully shot, with a cinematic feel, it is a visual celebration of all that goes into a great performance.
I love the awkward delivery in the Whitehall Samsung spots; many don't. However cheesy or good they may be, they are memorable. And isn't that what we all want from a good performance?
---
This is one Thinkbox Academy member's view. What do you think? You can view these brilliant ads at www.thinkbox.tv/thethinkboxes.

The Thinkboxes, in association with Campaign, are the only bi-monthly awards that celebrate the UK's world-beating TV ad creativity, in all its forms.
The Thinkboxes are judged by the 250-plus Academy members.
---
Thinkbox is the marketing body for commercial TV in the UK, in all its forms. Its shareholders are Channel 4, ITV, Sky Media, Turner Media Innovations and UKTV. Thinkbox works with the marketing community with a single ambition: to help advertisers get the best out of today's TV.