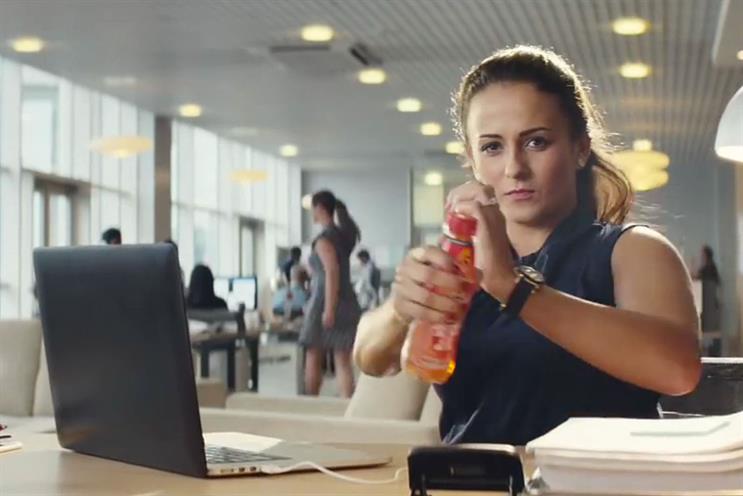 'Find your flow', Grey London's first TV execution in its £14m campaign to reposition Lucozade Energy,
has won the July/August 2015 Thinkboxes award for TV ad creativity.
Directed by Nathan Price, through Park Pictures, the ad features a series of people whose actions embody 'flow' – defined by Lucozade Energy for the purposes of the campaign as meaning: the "unmistakable feeling of being unstoppable".
The idea is graphically brought to life by scenes such as a window cleaner giving his work a foamy flourish, a puzzler flamboyantly twirling his pen, and a librarian able to throw books over her shoulder into the correct place on the shelf without looking.
The campaign's aim is to reshape people's brand percep­tions by encouraging people to drink the beverage in situations other than when experiencing illness and hangovers, explains Lucozade Energy head of marketing Nina Meusburger.
"Lucozade Energy is the second-largest soft drink brand in the UK, with a loyal consumer base, many of whom have grown up with the brand. It is important we continu­ously keep the brand fresh and relevant," she says.
"The campaign aims to position the drink as an ally to busy lives. With a light-hearted tone and a twinkle in the eye, we are celebrating the women and men who have found their rhythm and are making the most out of every day."
Currys/PC World's ad 'Dog', created by Abbott Mead Vickers BBDO, scooped second place in the July/August Thinkboxes winners' line-up. In third place was 'Horse story' – Adam & Eve/DDB's celebration of the 250th anniversary of Lloyds Bank.
Nina Meusburger, head of marketing, Lucozade Energy
"It is important we continu­ously keep the brand fresh and relevant."
Credits


Client Nina Meusburger, head of marketing, Lucozade Energy
Brief Help reposition Lucozade Energy as more than just a drink for when you are hung-over or ill.
Creative agency Grey London
Creative team Theo Bayani and Miguel Gonzalez
Production company Park Productions
Director Nathan Price