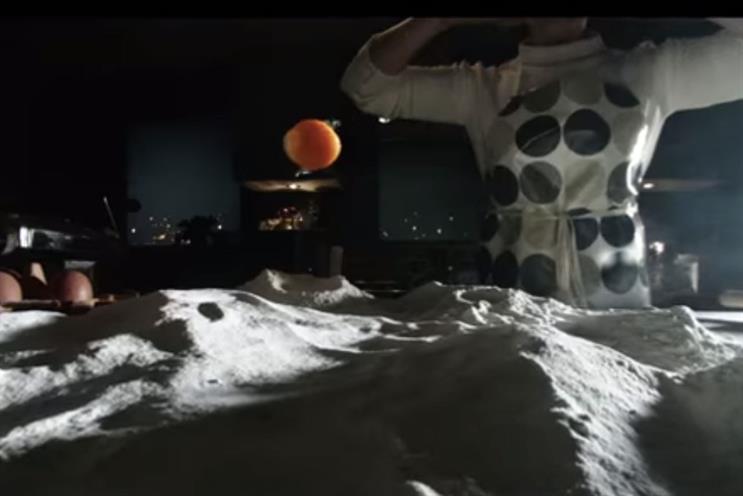 This month's winner, from Arla Foods' Lurpak Cook's Range, parodies the space-movie genre to encourage exploration and experimentation in home cooking.
The spot, "Adventure awaits", takes as its soundtrack Richard Strauss' Also Sprach Zarathustra (famously used in 2001: A Space Odyssey). A booming voiceover builds dramatic tension, and unusual close-ups of foods suggest an other-worldly landscape. The voiceover declares: "Tonight we choose adventure" as gas jets ignite to mimic rockets firing into space, and the ad ends with the line "Venture forth with Lurpak's new Cook's Range."
Wieden & Kennedy worked with the client from the start of this innovation project, ahead of the ad brief. Laurence Fischer, vice-president global BSM - Lurpak, Arla Brands, says: "We researched more 'emotional' insights and what bigger purpose our Cook's Range could fulfil. The target audience, foodies, are driven by a restless need for experimentation, and our range could be a trusted partner for kitchen adventures."
The space parody was suggested by director Dougal Wilson. "It was very unexpected. Nothing in our brief pointed to this and we were a little scared, to be honest. The creative team felt it could push the brand into a new territory, which we all want for it. So we took the leap," adds Fischer.
The Lurpak Cook's range was launched in March in the UK and is part of its broader strategy to move into new product formats.
In second place was Waitrose's "When you own something, you care a little more", by BBH London, and in third, Grey London's "The call" for Vodafone.
Laurence Fischer, Lurpak, Arla Brands
"The team felt it could push the brand into a new territory: we took the leap"
Credits
Client: Lurpak, Arla Foods
Brief: To show Lurpak Cook's range as a trusted partner for all foodies' kitchen adventures
Agency: Wieden & Kennedy
Creative team: Dan Norris, Ray Shaughnessy, Sam Heath, Freddie Powell, Hollie Walker
Production: Blink
Director: Dougal Wilson