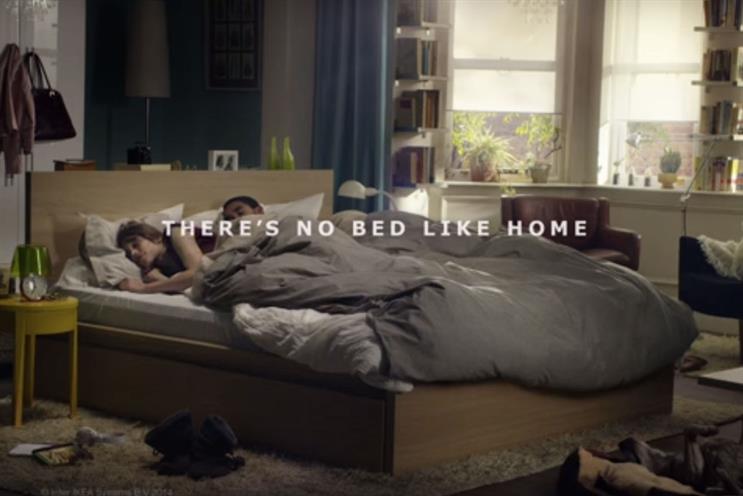 "The ad is part of a broader campaign to encourage people to think differently about the way they live at home, and is an illustration of the new IKEA brand platform 'The wonderful everyday'," explains IKEA UK and Ireland marketing manager Peter Wright.
"To IKEA, the everyday is the biggest design challenge - whether it's getting the kids ready and out of the house in the morning on time, or being able to find the right pair of shoes," he says. "These are the type of challenges people face every day, and where we believe we have the inspiration and solutions to make it a little easier."
Created for IKEA by Mother London, "Beds" features a young woman tumbling through the clouds. Her downward progress is broken by a succession of beds before she lands in her own, snug beside her partner and dog, who are both sound asleep.
The spot is "a dreamlike celebration of the truth that wherever we go, there really is no bed like home," adds Wright.
Laurence Green, co-founder of agency 101 and Thinkboxes Academy member, says: "It's a thing of beauty that uses TV to the absolute limit."
Transport for London's "Share the road", from M&C Saatchi - depicting everyday scenes of road rage to highlight the foolishness of being so confrontational - came second in the Thinkboxes winners' line-up, followed by Three's tongue-in-cheek "Feel at home" by Wieden & Kennedy.
Peter Wright, IKEA
"The ad is a dreamlike celebration of the truth that there is no bed like home"
Credits
Client: Peter Wright, marketing manager UK and Ireland, IKEA
Brief: Celebrate the truth that, wherever we go, there really is no bed like home - as part of broader "The wonderful everyday" strategy.
Creative agency: Mother
Creative team: Mother
Production company: MPC
Director: Juan Cabral.