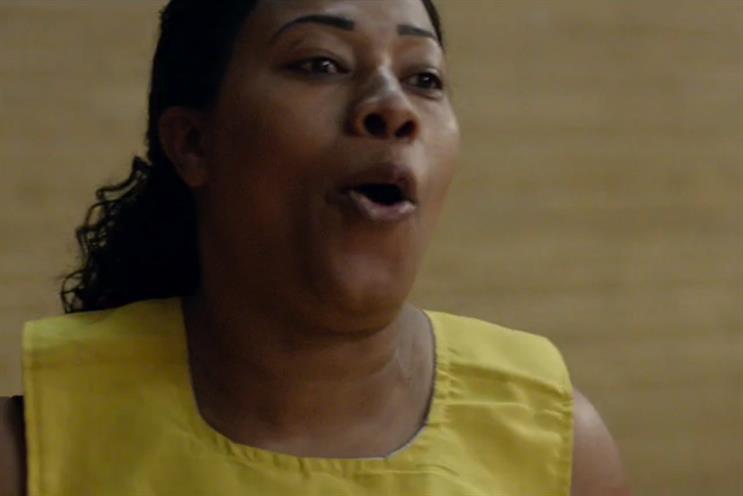 "Slap her?" by Fanpage.it, the Italian news site, and "the chokeables" by Bartle Bogle Hegarty for St John Ambulance, which featured in last week's chart are also in this week's top five. Here is the full list:
1. Sport England "this girl can" by FCB Inferno
The spot shows ordinary women taking part in sport and is backed by Get Ur Freak On by Missy Elliott. It received 80,518 shares this week.
2. Fanpage.it "slap her: children's reactions" by Fanpage.it
The boys aged between seven and 11 are put in front of a girl and explain what they like about her. When asked to slap her they refuse.
It was produced in-house by Fanpage.it, an Italian newspaper, and received 69,632 shares over the week. Last week it racked up 1,384,644 shares.
3. M&Ms "fans" by BBDO New York
The spot shows the yellow M&M talking to fans in an office, having misunderstood the red M&M's instruction to "tell our fans" that crispy M&Ms are back. It has been shared 36,903 times over the week.
4. St John Ambulance "the chokeables" by Bartle Bogle Hegarty
David Walliams, David Mitchell, Johnny Vegas and Sir John Hurt provide the voiceovers in this spot which aims to teach parents how to save the life of a baby that is choking. It has been shared 32,404 times this week. Last week, it was shared 8,098 shares and was number seven in the chart.
5. Pioneer "XDJ-RX introduction" by Pioneer
The film shows off the features of the new DJ system, and received 14,101 shares this week.
6. Cass Beer "TV commercial"
The four-minute spot shows a DJ entertaining a large crowd in a club whilst he drinks and dances around with the beer. It has been shared 11,952 times.
7. Ford "2016 Shelby GT350R Mustang revealed at Detroit Auto show" by Ford
The video shows the launch of the new car and its features. It was shared 11,139 times this week.
8. Chanel "spring make-up collection" by Heinrich Media
The spot shows a woman modelling the new make-up from Chanel which has been inspired by colours gathered in Parisian gardens. It has been shared 10,594 times.
9. McDonald's "signs" by Leo Burnett
The video has collated all the signs that the fast-food restaurant has displayed over the years such as "pink arches" and "thank you veterans". It has been shared by 8,604 times.
10. Dr Pepper "mop dog" by Deutsch LA
The spot follows a dog that looks like a mop who makes friends with a Dr Pepper delivery driver. It has been shared 8,068 times.