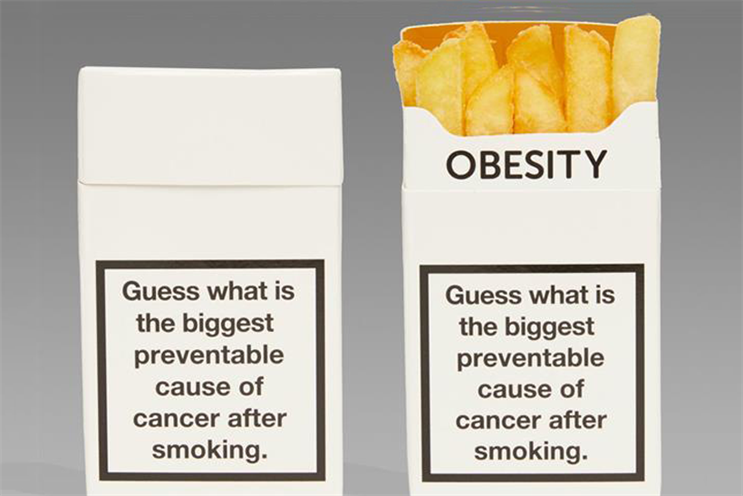 The campaign, which launched on Monday, encouraged people to guess the remaining letters in the word "obesity", when asked to identify the biggest preventable cause of cancer after smoking.
The message was also relayed in fake cigarette packets, which were handed out to shoppers, that contained chips (see video below).
The creative for the campaign, which is running across radio, social and digital media, as well as poster ads, was developed by ad agency Anomaly.
Cancer Research UK said being obese or overweight is linked to 13 different types of cancer, but only 15% of people in the UK are aware of the connection. A pilot ad campaign in the West Midlands highlighting the issue in 2016 increased awareness of the link by 22 percentage points, the charity stated.
However, in a comment that has been picked up by several national media titles including The Telegraph and the Daily Mail, comedian Sofie Hagen started a backlash on social media, calling for the campaign to be banned:
Right, is anyone currently working on getting this piece of shit CancerResearchUK advert removed from everywhere? Is there something I can sign? How the fucking fuck is this okay? pic.twitter.com/b7eU7lulms

— Sofie Hagen (@SofieHagen) February 28, 2018
She urged people to donate to other cancer charities that don't "body shame":
Here's a cancer charity that's never body shamed anyone. https://t.co/SyRTDQQ6mi

— Beyond Chocolate (@beyondchoc) February 28, 2018
A number of other social media users supported her stance:
guys i've had an epiphany and ur all totally right, i had no idea that being fat was bad until i saw that billboard, if only someone, maybe the media or the advertising industry or doctors, had been aggressively pushing that line every day of my life? can't believe no one told me
— Bert (@bethanyrutter)
March 1, 2018
I'm with you on this. When I became type 2 diabetic nearly all the online 'help' said that obesity was not a cause, but THE cause. I have never been obese, How can you trust the fat shamers?

— bala'am (@StevenPape) March 1, 2018
Cancer Research stood by its campaign in tweeted responses to Hagen:
(1/2) Hi Sofie, our campaign isn't meant to make anyone feel bad about their weight or make anyone think negatively about people who are overweight or obese. Our aim is to raise awareness of the link between cancer and obesity…

— Cancer Research UK (@CR_UK) February 28, 2018
(2/2) … as after smoking, obesity is the second biggest cause. It is our duty to inform people about this and lobby the government on policies which will help us all to keep a healthy weight. For more info, head to our website: https://t.co/eOrFWGfWUb

— Cancer Research UK (@CR_UK) February 28, 2018
Others offered their support to Cancer Research:
Only in 2018 could people get offended by this.

Fair play to @CR_UK. Good to see they're not backing down like every other brand/organisation does when confronted by a shouty minority of internetters used to getting their own way. https://t.co/Iy74qsHxHb

— Rich Leigh (@RichLeighPR) March 2, 2018
Sofie, this is incredibly insensitive to act like you becoming offended over someone stating a fact is even remotely comparable to being diagnosed with cancer. The naivety and, for lack of other words, idiocy of this tweet is concerning. Love from, a doctor.

— Hannah (@hannah_babbles) March 1, 2018
A spokesperson for Cancer Research UK told Campaign's sister title PRWeek there would be no change to the charity's plan to campaign around the link between obesity and cancer.
In a statement from the charity, professor Linda Bauld, Cancer Research UK's prevention expert, said: "The aim of the charity's campaign is to raise awareness of the fact that obesity is the biggest preventable cause of cancer after smoking.
"This is not about fat shaming. It is based on scientific evidence and designed to give important information to the public. Only 15% of people are aware that obesity is a cause of cancer. Cancer Research UK has a duty to put that message in the public domain."
A version of this story was first published by PRWeek