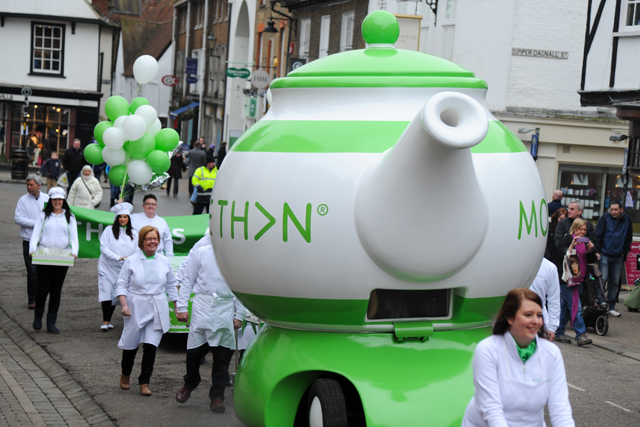 The RSA-owned direct insurance brand is rolling out a campaign under the strapline 'Feel the love', as it looks to switch focus from product-focused acquisition marketing to a strategy focused on its customer-service offering.
Its first TV ad in this campaign, created by VCCP, was filmed in St Albans, Hertfordshire. It shows a parade, including a giant teapot and biscuit, arriving in the town centre, with the insurer's staff handing out free tea and flowers to local people.
Dominic Grounsell, marketing director, personal, at RSA, said the campaign activity will take the brand to several further locations across the UK and help More Th>n stand out from 'bland' companies in the sector.
'Insurance is a challenging market and not always successful at driving engagement. Our new philosophy reflects the original More Th>n brand statement, and allows us to focus on our great customer service,' he added.
'Over the next few years we will be visiting customers in towns and homes. It gives a great opportunity for advertising and is very different from the norm in insurance.'
The campaign, which breaks on 18 March, will run across TV, outdoor, print, direct, digital and social channels. Media planning and buying is by Starcom MediaVest, with digital elements created by Mesh Digital.
The insurer introduced its More Th>n Freeman character in late 2010, using the vocal talents of US impressionist Josh Robert Thompson.
The actor and comedian has narrated a series of ads in the style of Oscar-winning Hollywood actor Morgan Freeman, telling an elaborate story to promote one of More Th>n's insurance products.
Follow @alex_brownsell