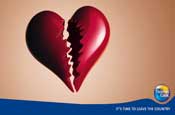 The incumbent on the creative account is design agency Sweet FA. It is not known yet whether or not the Cambridge-based agency will be asked to re-pitch.
Booth Lockett Makin handles media, while BLM Quantum runs its digital account.
Thomas Cook denied it was under contract with an intermediary. It said: "We can confirm no intermediary has been formally contracted with, and there are no plans to do so in the short-term. We are contracted to Sweet FA and BLM, our existing agencies."
The account last pitched in November 2005, when the company attempted to consolidate its advertising, which was split between TBWA\London, Farm and Home.