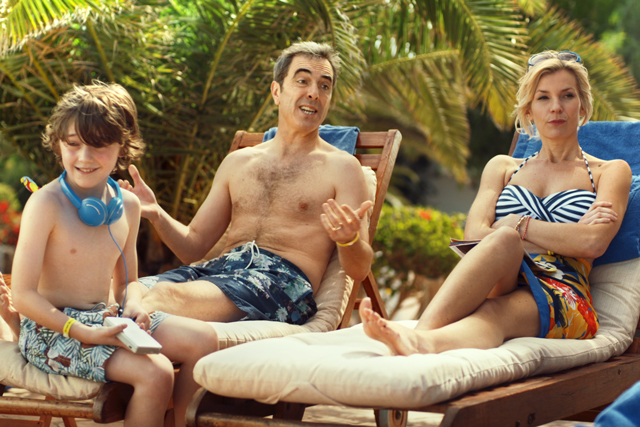 The three 30-second commercials, 'Trunks', 'Room' and 'Exchange', were created in collaboration with Thomas Cook's outgoing ad agency, Havas London Worldwide and star Nesbitt as the father of a family of four in various comic holiday situations.
'Trunks' focuses on family holidays in Aquamania Resorts; 'Room' highlights online hotel previews and Tripadvisor reviews on Thomascook.com; while 'Exchange' showcases Thomas Cook's travel money offering.
All three executions will continue to be underpinned by the "Don't Just Book It - Thomas Cook It" endline, which Thomas Cook UK and Ireland sales, marketing and ecommerce director Mike Hoban said the campaign would "give substance to".
"Thomas Cook is a very high-profile business," said Hoban. "We recognise that in Thomas Cook we have a superbrand, one that is universally popular and familiar, and what we need to do is to remind people why we're popular and why we're relevant in their lives.
"The second important point is the role of the web. We've been quite clear that is our intention to become a multi-channel business; we've said that within two years the majority of our business will be web-based and that is reflected in this campaign."
The campaign will premier on 1 June, with executions across terrestrial and satellite channels in off-peak, daytime slots, with elements of the campaign extended across E-CRM, direct marketing, online and in-store point of sale.
Hoban said: "This is a truly integrated, multi-channel campaign - the images you see in the ad, will be the same images you see on the website, in our retail stores and in our E-CRM and direct marketing."
The campaign launch follows a turbulent year for Thomas Cook UK, punctuated by the shake-up of its senior management, thelast-minute shelving of its planned New Year ad campaign, and theplanned closure of 195 of its 1,069 UK high-street stores.
Hoban said: "The thing I would point out is that last year the share price was 19p and now it's £1.50 - the city has shown faith in us, our customers have shown faith in and we are very confident about our future and confident companies invest in their future."
He added that a £3m year-on-year marketing costs saving highlighted in the firm's Interim Management Statement for the six months to 31 March 2013 was "much more about efficiency and running our business effectively" than any reduction in marketing budget. "We've increased our media spend while running our marketing more efficiently," he said.
Asked what single message he hoped customers would take from the new capaign was, Hoban said: "It's that they should visit thomascook.com".