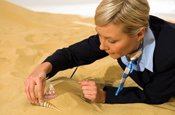 A number of agencies have been approached with a request for information, and pitches are expected to be held towards the end of this month.

Thomson is looking for an agency to work on brand engagement, through direct mail, print and poster campaigns.

The brief also incorporates work for Thomson's sister company, Portland Holidays. Portland does not currently have a retained DM agency.

WDMP is the incumbent on the Thomson CRM account, after being appointed to the business in October 2006, following a four-way pitch.

WDMP recently created a personalised mail pack for Thomson, which reminded recipients when they last booked a break.

The mailers took the form of a calendar, and were tailored to individual customers by including images of the places where they last went on holiday.

Thomson's advertising account is handled by Beattie McGuinness Bungay. The agency recently created the Thomson "staff" campaign, which saw employees build a beach location in a studio.

News of the Thomson review comes four months after TUI appointed Billington Cartmell to the DM account for another one of its travel operators, First Choice.