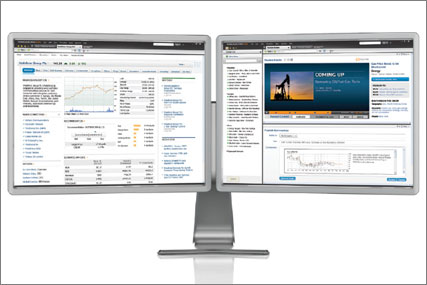 The global business information provider is launching its new platform in London and 13 other major cities from Monday (20 September).
Created by New York ad agency Gardner Nelson and Partners, in collaboration with Jack Morton in London, the campaign combines print, digital, broadcast and outdoor advertising.
The multimillion-pound activity has been valued unofficially in the region of £8m, and ads will feature the tagline "New Era. New Tools".
In addition, there will be experiential activity, including a two-metre high "Digital Forest" installation outside Canary Wharf Station and New York's Stock Exchange, and a series of live events, an online game, and a competition to win a place on an expedition to the South Pole.
Thomson Reuters Eikon will redefine how financial professionals work by placing the most comprehensive market information, news, analytics and trading tools available into a desktop as simple to use and as collaborative as the Internet.
It claims to catapult market data into the 21st century and leverages information into easy-to-use, web-style search, aggregates the best of social networking technology, and allows for seamless mobile interchange from the office, home or while on the move.
Eikon is available on multiple computer platforms, Blackberry and iPhone devices, with a single sign-on to access information anywhere, at anytime.
The launch of Thomson Reuters Eikon marks the third component of the company's aim to provide today's financial professionals with new tools to thrive in a new era.
Devin Wenig, chief executive of Thomson Reuters Markets, said: "Today's generation of financial professionals demand tools that are intuitive, rich in data and analytics, and highly connected, to give them an edge.
"Eikon is a fundamental shift for our company and our industry. It will constantly adapt to help customers thrive in this new era. The launch signifies another key milestone in our strategy to build an open and connected global financial community."