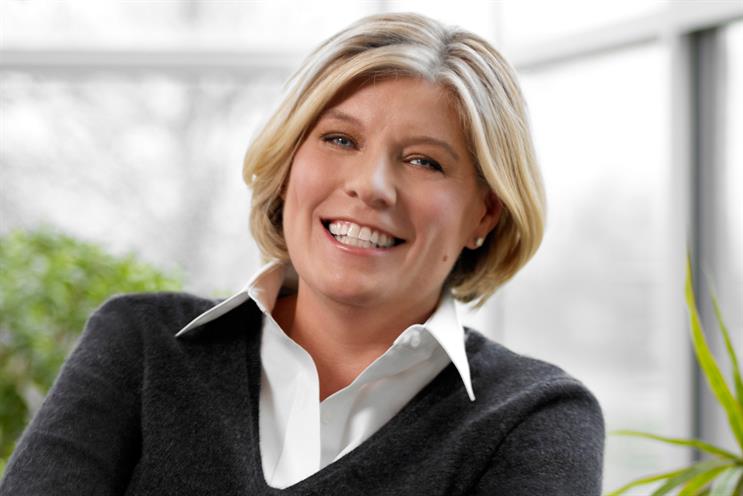 I admit I let the clichéd stereotypes fug my preconceptions. I expected hard-ass, flexed and buffed, spiky heels and silicon smile – a sinew of efficiency and hard ambition in a sharply tailored suit.
An American businesswoman who's risen to the top of one of the world's most powerful media agencies and who's just been propelled into the outer inner sanctum of one of marcoms' biggest holding companies, a "Media Maven", a Forbes "100 Most Powerful Women", a "Women to Watch". Laura Desmond has to be a ball-breaker, right?
Of course, Desmond immediately crushes all my clichés beneath her sensible shoes. If Starcom MediaVest Group's global chief executive has a core of steel, she com­plements it beautifully with a warm thoughtfulness and empathy.
Here's your poster woman for a modern iteration of the old testosterone-fuelled media agency: smart, clear, collaborative, powerful – yes; but not aggressive or chippy or patronising. And, since you ask, she's dressed firmly on the comfy casual spectrum. I love her for it.
She's in London to steer an SMG worldwide leadership meeting and also the day she's been propelled further up the Publicis Groupe chain of command, joining the Directoire+ of top management. It's a big deal, but Desmond is far more interested in talking about tomorrow's leaders.
"One of my passions is leading for the next generation. We've gone through a couple of decades of losing graduate talent to banking or M&A work or technology," she says. "I think it's actually circling back round because so many of today's students love the nexus of popular culture and media and technology. Media companies like SMG sit at the intersection of that."
SMG is big on externships with ad tech companies, both as a way to nurture and engage its people and forge new relationships with Silicon Valley. "We're the only agency to have been certified as part of the Twitter School," she says. "We're the only agency that has Google search certification, as well as Google data analytics certification. We're the only agency that has created an agency partnership with Google. The idea is to keep people in our house but give them exposure to a different house."
But are there fewer richer roles for young people in media now? "No. Because, with all of this data and automation, you still need people who can interpret and aggregate and provide insight," she replies. "For all the promise of machine-to-machine marketplaces, the truth of the matter is that machines make mistakes.
"I love the fact that, when Anne Hathaway is in the news, when there's a lot of Google searching around the word 'Hathaway', the share price of Warren Buffett's Berkshire Hathaway company goes up on average 0.04 per cent… for all the talk, stupid things happen."
This sort of thinking is core to SMG's "human experience" positioning – something Desmond introduced across the network five years ago. "The bottom line is, in this time of disruption, the definition of a new media agency has to be around ideas," she explains. "This new industry is not 'what's for sale, what can I buy' any more; it's 'what can I create', 'what markets can I make', 'what client can I put with what platform to create something together that people want to experience'."
But the new media agency also needs to be about much more than media now. "The media world has to expand its view of what ecosystem it's in," Desmond admits. "I don't have a lot of value to offer the chief marketing officer of one of my clients if I can't talk with intelligence or have a point of view about their marketing strategy or their messaging strategy, their positioning, their packaging, their price point, does it make sense to open in China or not?
"While media is important inside a marketing services organisation, media's value will have a certain end point unless it can expand to have a broader strategic conversation across the marketing spectrum with its clients."
But being a business partner means building trust. Transparency, never media's strong point and worse now there's automation and proprietary ad platforms, needs to be addressed. "Our organisational philosophy is different from others," Desmond insists. "It's to have full disclosure and to continue to put the interests of our clients at the top of the totem pole. That's what we believe in. The marketplace is really evolving. It can't evolve on secrecy – it has to evolve on open discussions and it has to evolve on value."
Her final plea is for the media community to work together to literally raise the value of media's contribution and not take on business at unsustainable prices. "I'd like to see all the media companies recognise how important it is to build the industry, not tear it down by commoditising it," she says. "Let's be hard competitors but let's remember the value we create for our clients and for brand growth, and that there is great value in what we're doing."
If she can achieve that, then Desmond will have conquered the biggest challenge of them all.