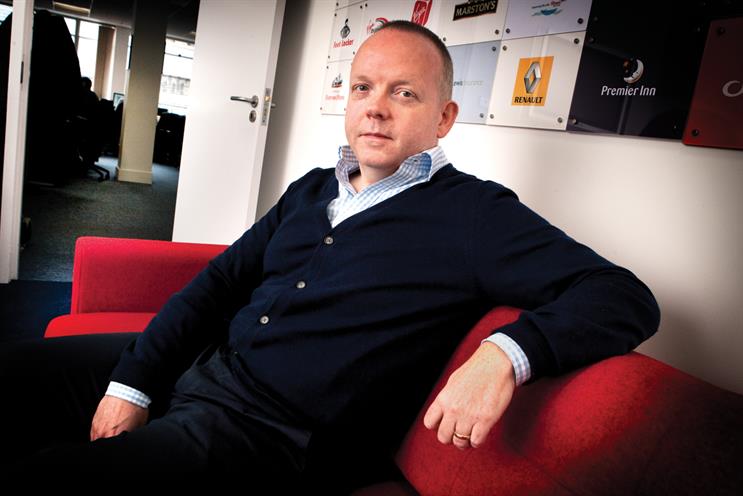 Robert Ffitch has reached a peak. In a UK first, his agency, Manning Gottlieb OMD, won the 2012 Cannes Media Grand Prix as well as the IPA Effectiveness Grand Prix with Adam & Eve/DDB. His football team, Chelsea, are still champions of Europe – "until May, at least" – and he has just become the first chief executive of the agency. Many view his promotion as a deserved progression, after leading the shop shrewdly as the managing director for seven years.
Technically, Ffitch first ran the agency back in his twenties as a lone staff member while the founders, Nick Manning and Colin Gottlieb, were on gardening leave after quitting Chris Ingram Associates in 1990, taking the young Ffitch with them.
Twenty-three years later, with 263 staff and 58 clients, the agency is thriving and generated more than £420 million of billings last year – representing more than 40 per cent of OMD Group's total billings. Last year also brought in new business from the likes of Premier Inn and the £39 million Specsavers account, both of which were "on the radar" for several years, according to Ffitch.
It has been a steady rise for the man who stepped up to be the managing director a little reluctantly in 2005. "I was more of a coach than a manager or leader, comfortable sitting in the back seat and doing some work rather than driving the car. I didn't really get a kick out of leading," Ffitch admits. "When Nick gave me the job, he said I'd be a great peacetime managing director, whereas it would be a challenge for me in wartime when things got tough."
In practice, the self-deprecating Ffitch has proved an accomplished chief, driving the agency to emerge from what he calls its "wobble" after it was bought by Omnicom in the late 90s, enforcing stricter reporting procedures and structures on staff. "I've had to make some pretty hard decisions over the years and have become thicker-skinned as a result," he says.
One of the toughest was prompted by Virgin Media's decision to consolidate its media into one agency in 2011. MG OMD ran the buying services and decided to join forces with Goodstuff Communications, which held the planning business, rather than go head-to-head. Fifty6 was created and still retains the lucrative account.
'Our vision is quite simply to make all of our clients totally appreciate and realise that what we do is fantastic'
As the chief executive, Ffitch has relinquished operational duties for "more forward-facing, visionary stuff", he says, raising his eyebrow slightly at his own phrasing.
"The job of a managing director of a media agency now is nigh-on impossible," he explains. "There are so many services and clients that, for a managing director who is in charge of operations, to have a finger in every pie is a big challenge. At bigger growing agencies like ourselves, you don't need one managing director, you need a number of people working closely together to join everything up."
Ffitch's first strategic move has been to establish a formal positioning for the agency for the first time. "Our vision is quite simply to make all of our clients totally appreciate and realise that what we do is fantastic for their business," he says.
Colleagues past and present see him as a man without an agenda; a thoughtful and modest figure and a skilful operator. Gottlieb, now the EMEA chief executive of Omnicom Media Group, says Ffitch is humble: "It's what makes him so damn effective and why he commands so much loyalty from the bottom up. Bobby just doesn't realise how good he is. I'd hate to ever pitch against him.
"He's as tough as they come, but not in the least confrontational. Most people have an agenda, especially as you go up the tree. Bobby has no agenda apart from giving his best."
Simon Daglish, ITV's group commercial director, echoes this. "He's a canny, considered media operator and I think he's run Manning Gottlieb exceptionally well. It could have lost its distinctive approach, but he's really maintained and developed that," he says. "You'll always get a straight, well-thought-out opinion for Robert."
Staff describe Ffitch as a visible presence in the office, who will chat to everyone at events such as The Bobbies, the internal awards named in his honour.
Perhaps the only criticism is that the agency doesn't have the profile it deserves. He admits he is not predisposed to banging his own drum, describing MG OMD's make-up as "normal human beings who work quite hard and get on with it". It's an approach that clearly works for clients such as Google, John Lewis and Virgin Trains, which all won awards for their media activity last year.
As Ffitch officially takes the helm, he should take a moment to congratulate himself on a job well done so far.
The lowdown

Age: 49
Family: Married to Annie with three daughters – Connie (19), May (15) and Madeline (12). A dog called Twiglet and a guinea pig called Pointless
Lives: Beckenham, London
Desert-island luxury: A guitar (and a beginner's guide to learning the guitar)
Favourite media: Football, golf, cricket and horse-racing on telly, plus the odd series such as Homeland, Broadchurch and The Bridge. Avid Radio Five Live listener while driving and a daily consumer of FT.coms