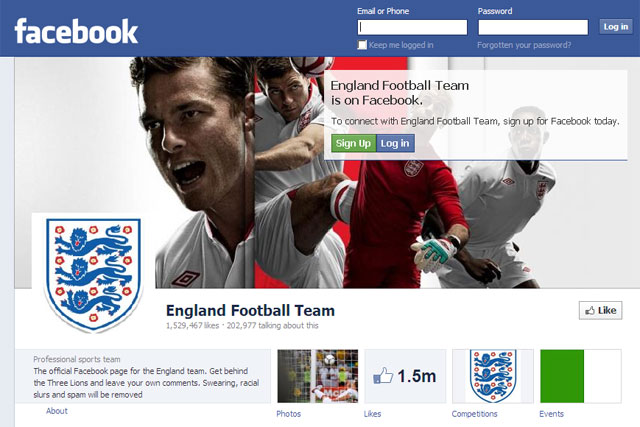 Social media data during the game indicates the growing importance of Facebook and Twitter for football fans.
England's football team Facebook Page gained 3,669 fans during the match, while Facebook posts were shared 32,000 times.
Twitter was also abuzz with activity, with England receiving 20,4023 mentions on Twitter, with the majority of them positive.
Data supplied by social media agency Wildfire reveals that England ended the match with 1,520,000 Facebook fans, compared to the Ukraine's 10,023.
Relative to the number of the teams' fans, the data shows despite England updating its page eight times throughout the match and Ukraine updating its page 10 times, engagement on England's posts was twice as high than on the Ukraine's, according to Wildfire.
England asked its Facebook fans direct questions, such as score predictions, while the Ukraine uploaded images of the game on its page to drive engagement.
England received the most mentions in relation to the game, with 70,120 positive, 66,671 negative and 67,235 neutral, according to data from Arena Media and Brandwatch.
They charted tweets minute by minute for the game, and its highest peak was 3,200 in a minute. There was an average of 1,000 tweets a minute mentioning the England team.
The data also shows that Wayne Rooney was the second-most talked-about subject on Twitter in relation to the game, gaining 46,390 mentions. These were more negative in sentiment than positive, with 17,599 of them negative, 14,799 positive and 13,992 neutral.
The Ukraine was the third-most talked-about subject, receiving 37,486 mentions, while its most-talked-about player was Andriy Shevchenko, with 1,630 mentions.
Paddy Power, which has come under fire in regards to an underpants marketing stunt during the tournament, was the most-talked-about brand on Twitter in relation to the match, with 1,047 mentions, according to the Arena Media and Brandwatch data. Nearly half of these mentions (514) were negative.
This was followed by Umbro, with 259 mentions, Nike with 222 mentions and Mars with 202.
Click the infographic to enlarge it.
Follow John Reynolds on Twitter @johnreynolds10