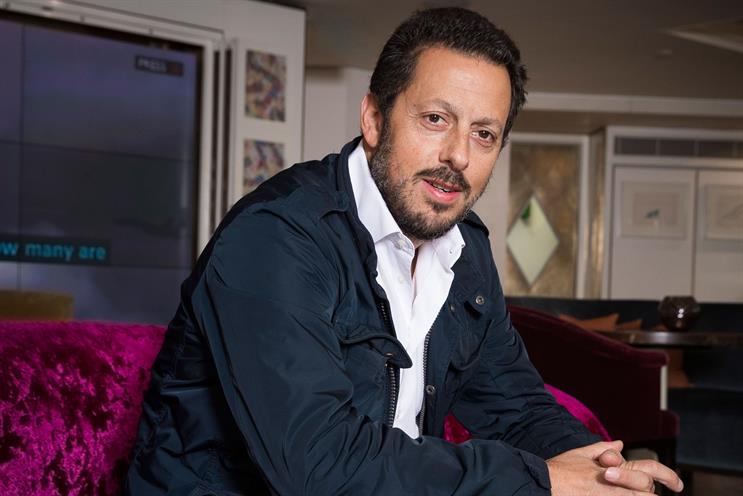 Who are the industry's biggest boundary pushers, the ones who have really made a difference? And who do they most admire? In association with The Trade Desk, we invite the biggest industry names to interview their boundary-pushing peers – and pass on the baton, in an interview relay.
In the previous instalment, Martin Heaton Cooper, VP commercial development UK at Discovery Networks, chose Mean Broadcast's managing director, John De Napoli, as his boundary pusher. Now he speaks to him...
You started out your career in one of the UK's biggest sales houses, what was the thought process behind setting up on your own?
I got into media at Scottish Television which finally became Carlton, and then ITV. That's where I met you, Martin. From there I went into the digital channels through Network and Carlton Select, where we launched ITV2.
But during the process of creating ITV, while building up the team and the multi-channel section, I realised I was making so much money for other people, and I was getting frustrated in that corporate environment. We were having so many meetings which seemed to be for no reason. And when Carlton's view was to stop third-party business, I figured this was the time to leave. I didn't want to be part of ITV group and get caught in that big corporate structure – and these smaller channels needed some representation. I had no risk at home – the kids were young and not at private school – so I decided to give it a year and try it.
I left Carlton on 30th November 2002 and on 3rd December I started digital media sales. By 23rd December I had already taken more money in January than the channels had ever taken when I worked with them at Carlton.
What was that first year like?
It was hard. If you start a business, you've got to be prepared to give up almost everything else. If you want to succeed, it's seven days a week, 18 hours a day. I work with lots of people who are starting their own businesses, and they think it's Monday to Friday, nine to five. That's not going to work.
You've got to be prepared to do things that you've taken for granted – if you're used to walking into nice offices, never having to worry about negotiating rent, service charge, fitting it out, setting up IT, broken air conditioning… but you've got to get involved in everything. If you're a chef opening a restaurant, you're not just cooking. Having to deal with all of that you become a Jack-of-all-trades. That was a big learning curve. And very hard.
What qualities make a successful entrepreneur? Which of these do you have?
It's all about having a clear vision, the ability to make things happen quickly and a topline understanding of the models. You can get caught up in so much detail. I've met a lot of people who have written 100-page business plans. But if you send out a plan to raise money, people just want it in a summary on one page. From that, you should be able to tell whether the idea will work or not.
You need to get involved in something you really know about and can add value to. Just because I've been to lots of restaurants, it doesn't mean I can open one. You've got to work with people who know the subject matter. Understanding the processes to go through to get a business up and running, and getting it to that first level where it actually works – that's the success. You can have a three year plan with all the bells and whistles, but you've got to get from A to B, and get people to work with you with strict processes.
When people say I'm an entrepreneur, actually I got lucky on some areas – but ultimately I put the hard work in.
What keeps you motivated and interested?
The challenge and the reward. The challenge is recognising a gap in the market – whether it was setting up Mean Broadcast to do Eurosport, or setting up MEMS (the Multicultural and Ethnic Media Sales), which was the first ethnic sales house – the challenge was trying to change the market or create something.
The reward is not just financial. You want your business to be successful, but success is not just making money, it's having a business model that's working. If you're employing people, and they're succeeding, you're creating something that works and that people want.
"Just because I've been to lots of restaurants, it doesn't mean I can open one"
How do you feel when you are doing something risky?
I've met so many people who have business ideas and always think they is going to work. I've done it as well – you get so caught up in the product and the idea. I've probably seen 100 TV channels come and go. A lot of people don't understand that an idea can fail. You've got to know your risks.
For me, the risk is part of the reward. I would rather risk starting businesses with people I know are trying things. I'm in more control working with people who understand the product, than putting my money in shares with some broker. Who knows what's going on in that company and market? Business is gambling, but it's more of a managed gambling... an educated guess.
Which media agencies are taking the biggest risks?
All of them are taking risks. But if we define 'risk' as trying to push boundaries, I don't think enough of them are doing that. Everyone is caught up in a system and industry where we're all undercutting each other.
Something is going to happen soon, because it's got to change. We're all working harder, having to give more and earn less, and the model can't work. Look at it as any business model, when you started at 15%, and now some deals are at 0% just to bring in business to make you look good. How can that be good?
Some people say they would rather win an account and it looks good in the books so they can win other accounts. It's a hard question, and it's hard for the agencies. There's three big sales houses who control 95% of the money, and it shouldn't be that way. The agencies have let that happen – everyone has let that happen – and it's time for change.
Have you ever considered working agency-side?
Yes actually, years ago when I'd had enough of Carlton. I wanted to go to an agency to work with clients and pitch to clients. but I don't think I could have bought airtime because I would have been frustrated with the media owners… I would have been going down to visit them when they moved my Coronation Street spot, rather than phoning them up. That's my Italian mafia side.
I have thought one day if I decided not to do the sales side, or if things changed, I would go to an agency. Because they're businesses. When you're with clients, you're still selling to clients – they buy your agency, but they buy you as well. Everybody's selling. If I've done well on the sales for over 30 years, I think the agency side would be good.
What are your thoughts on programmatic trading for TV?
What's programmatic? I'm joking! This is why I love this business. Everything changes. There's always something new. In 1998 the buzzwords were 'digital' and 'interactive'. Now it's 'programmatic'.
Programmatic is more strategic planning, using more information to decide where to buy spots. Agencies have already been doing it for a while. It's bringing together data with an audience profile, using Tesco Clubcard info and all of that. They match it up and decide that spot that channel that time is going to reach a particular person. That will become alternated at some point. Maybe in a year or so.
It may start media owner by media owner because no one is going to put all their airtime into a pot and let people just buy when they want. What it will do is the pricing for that particular spot may go up and down. So a Coronation Street spot may be worth 'x' amount now the way we trade, but with programmatic it may be worth half. But a zero-rating spot may be worth five times more. People are bringing together all the information that is out there with things like SkyIQ data. In another year or so things will start happening.
How do you keep your team motivated?
You've got make people understand that they rely on everyone in the team. In any business, it's not just about who is perceived to be the key person. You are always going to have people in a team that work at 100 miles per hour and people who work at 50. You've got to make sure you've got that balance right. I always make sure we're all going in the same direction or people start to veer off and do their own thing.
Train people, and make it fun for them. It can be easy to forget about people and carry on. But you've got to make sure it's fun and they are happy. Take them out for coffee. Keep it real. We are human beings, we've all got lives. That's how you get the best out of people. Let them know it's business, but treat everyone like a human being.
"I would have visited them when they moved my Coronation Street spot, rather than phoning. That's my Italian mafia side"
If there was one thing in your career you could have avoided (with a time machine) what would that be?
I haven't really got any regrets. Maybe I could say the time when I was offered a job when Channel 4 started… they were giving Channel 4 away, when I was working at Scottish Television. They had three programmes: Cheers, Countdown and Brookside. I was offered a job to go to Channel 4 as one of the founding members, and I laughed because I thought they were giving it away for nothing. Sometimes I ask myself if I should have taken that job. But then if I had, I would never have ended up starting my own company.
So if I had a time machine… I don't know. It's hard question. I had a couple of good people working for me who I lost, so maybe I would go back to just before they left and given them a small salary rise!
What was the deal that got away?
Ever since I started on my own I always had this idea about how everyone outside the top three could actually work together. But actually, when you bring together seven or eight companies and everyone's got a personality and their own plan it's quite hard to make it work.
The idea was if we bought together and had a significant share, we could start driving the market and have more clout. There was an opportunity this year to take Discovery Channels away from Sky. The plan was to create the No.4; if Discovery was to come, maybe other third parties within Channel 4 and Sky Media would have come, and we could've created a 10-15% player within the next two or three years.
It would be working for those companies to drive them, rather than Sky Media, as an independent, driving it's own product. That was the opportunity, and I don't think it will be there again. That's the one that got away.
Who in this industry, agency-side do you admire and why?
I admire people that look to change things. Obviously I admire the7stars because they went out on their own. It was the right time for them because of what was happening at the time with Carat. But for Jenny Biggam, Mark Jarvis, Gareth Jones and Colin Mills, at the time when they set it up it was a big risk for them – and not just financially. They've done well and they've got through.
You've got to admire Group M for what they do, and the model that they run. Okay, it may not work for everyone who relies on them – everyone's trying to work with everybody – but actually as a model you've got to admit that it works.
Paul Rowlinson is someone I see as an individual who has built himself up, going from mid-level management to being very senior within Mindshare. Bobby Din left a perfectly good job at Mindshare where he would have been very safe, and took a risk to move to Goodstuff. That risk has now paid off and worked well.
There's a long list. It's a good industry, which is always changing.
So – what's next for you?
I'll keep on driving Mean Broadcast and Ethnic Media Sales, focusing on growing them. My other businesses are hobbies, but I'll keep growing them and continue to look for other opportunities in the market. I love this industry because things are always changing. People sometimes say they're bored. How can you be bored in this industry? If you're bored you're doing your nine to five, Monday to Friday, not looking for anything else. There is so much opportunity out there. I'm 50 now, so I've got a few more years...