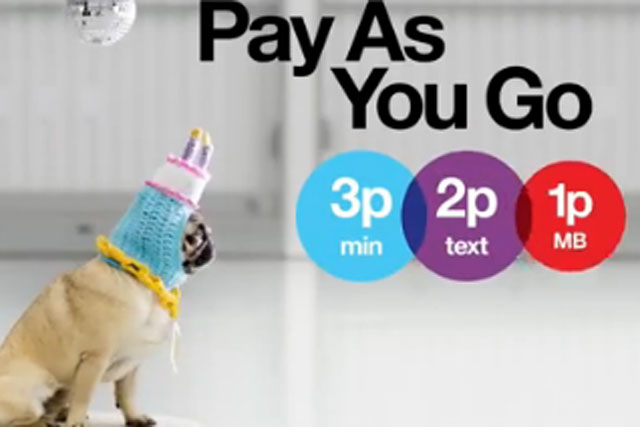 The '321 Pay-As-You-Go' tariff offers customers calls at 3p a minute, texts at 2p a minute and a megabyte of data for 1p, with Three seeking to position it as a "back-to-basics pay-as-you-go'.
Activity promoting the proposition launches tonight, in the same week that both O2 and Vodafone announced their 4G propositions, with the cheapest 4G tariffs costing £26 a month.
Three, which won the smallest bandwidth in February's 4G auction, is not launching a standalone 4G proposition and is offering 4G to its customers at no extra cost.
EE, Vodafone and O2 are all spending heavily on marketing their 4G propositions, with Vodafone and O2 both playing catch-up on EE after it introduced its 4G brand a year ago with a launch campaign estimated at £100m.
The launch of the 4G propositions from Vodafone and O2 will happen on the same day – 29 August – as the 4G battle becomes increasingly fierce.
Three's first burst of television activity for the pay-as-you-go proposition will run until the end of August, with TV spots supported by video-on-demand, outdoor, print, digital and online.
The 30-second TV ad was created by Wieden + Kennedy and features Mabel the pug, with on-screen text stating "The time has come to change the course of history" and the spot ends with a "pay-as-you go just got serious" tagline.
Once initial TV activity ends, Three states that "light touch" marketing activity will continue to run up to November, with the second major phase of the campaign running from November to Christmas.>
The Christmas period is the most popular period for pay-as-you-go tariffs and as a result, new mobile brand Mobile by Sainsbury's is preparing above-the-line activity for Christmas that will see it go head-to-head with Three.