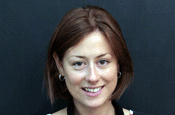 Jim Martin, Louise Williamson and Alice Forward beat more than 80 candidates.

Martin joins from MTV as a social media expert, Williamson moves from Naked with media and communication skills, and Forward arrives from Tribal Sydney with information architecture expertise.

Work Club's head of strategy, Lisa De Bonis, said: "Today's strategist needs to have a solid grasp of so many different and complex communications channels and strategies - it's almost impossible to find one person who ticks all boxes.

"So we've concentrated on finding great talent in the specific skillsets we're after."