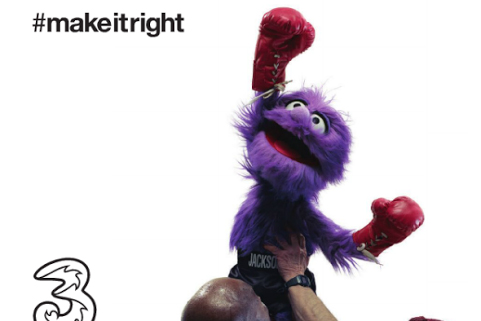 EE complained to the ads watchdog after an outdoor ad, created by Wieden and Kennedy, ran last November featuring Jackson, a character from Jim Henson's Creature Shop.
Jackson was depicted in boxing gloves striking a victorious pose.
The copy said: "The undisputed. UK's most reliable network. Again."
When contacted by the ASA, Three cited a report from polling company YouGov which said it was superiour to other mobile phone networks for five quarters in a row.
But, in its ruling today, the ASA said the study was based on opinion of customers, which was subjective, and not objective standards.
The ad must not appear again in its current form, the regulator said.
The ASA added: "Because we understood that there were no commonly agreed objective measures of network reliability against which 3 UK had undisputedly scored higher than their competitors, we concluded that the claim 'The undisputed' as used in the context of the ad was likely to mislead,"