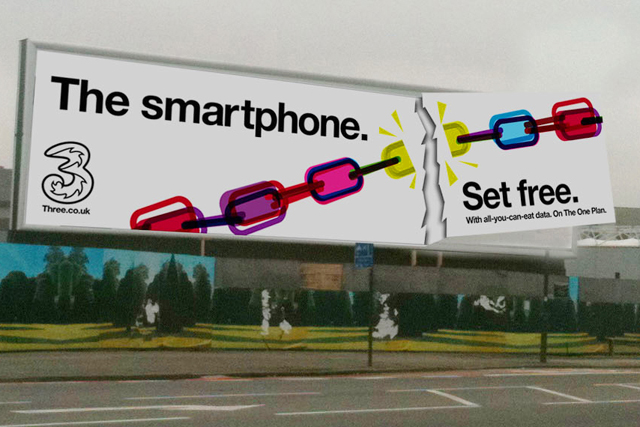 The Three plan not only gives consumers 2,000 any-network minutes and 5,000 texts per month, but also unlimited data use – something its competitors are moving away from.
The campaign will use the strapline "The Smartphone. Set Free".
T-Mobile, last month, tried to alter its terms and conditions to prevent the use of video when monthly data allowances had been reached.
Targetbase Claydon Heeley devised the ads, with Mindshare buying media for the campaign, which will use prominent outdoor spaces such as London's IMax, London Underground spots and Westfield shopping centre's digital screens.
These will be supplemented by national radio spots, direct response press ads, wraps in London's Evening Standard and Metro, as well as partnership deals with the Sunday Times and Capital Radio.
Margaret Burke, director of brand and integrated communications at Three, said: "At a time when many of our rival networks are reducing data allowances for customers, Three is bucking the trend. 'The Smartphone. Set Free' campaign perfectly positions The One Plan as a one-stop solution, allowing customers to finally use their smartphones to their full potential."
Three has matched rivals' attempts to lure iPad users with improved data deals, and plans to increase its market share in the smartphone market, by removing the data cap.