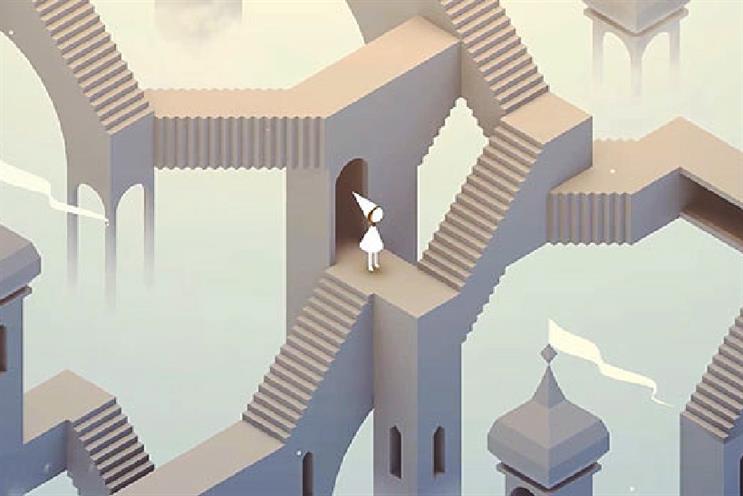 Mel Exon is managing director, BBH, and co-founder of BBH Labs.
@melex
There is a moment in the latest series of House of Cards that, when I watched it, stopped me in my tracks.
In the scene, Frank Underwood – now President of the United States – throws himself down on a chaise longue at the end of a long day being demoniacally Machiavellian and starts playing Monument Valley on his tablet.
What's the big deal? Well, first, Monument Valley is a puzzle game made by Ustwo, a global digital product studio founded in Britain. An in-house project, it is one of a few games the studio has developed, but the first to be such a standout success. In the context of many gamers' obsession with first-person shooters, this is different. You guide the central character, Princess Ida, through an Escher-esque architectural environment. It's contemplative, curious and beautiful. So much so that Ustwo didn't approach Netflix with a ton of funding to discuss placing it in House of Cards – it was the other way round. Why? Because the show's creators use the on-screen gameplay as a shorthand to remind us of the complexity of Frank's psyche as he works out his next move, in and outside the game.
Around the same time as series three of House of Cards was released, a BuzzFeed article with a simple voting mechanic to 'settle' the colour of a dress lit up the internet. You know the rest.
So what brings BuzzFeed and Monument Valley together and what can marketers learn from them?
1 Stand for something different

Through its tone, technical craft and creative concept, Monument Valley has become a bona fide brand in less than a year. One capable of defining a moment in a TV show, which, in turn, gave it access to a broader audience (witness the uplift in downloads after the show aired).
BuzzFeed may have been dismissed as a LOL-fest in its early days, but it has been open about a long-term strategy to separate it from its detractors, based largely on sound assumptions about how the internet really works. Decisions like a commitment to scrollable lists versus slideshows sound small, but matter more to audiences than you may think. Ditto ignoring basic display and making social advertising a valued, valuable part of the model.
2 Focus on sharing over reach

BuzzFeed's priority is content that is intrinsically shareable. "Niches are good," said Ze Frank (then the site's executive vice-president of video, now president of its BuzzFeed Motion Pictures division) at a Wired conference last year. "We're crushing on humanity, falling in love with the mundane and small." Monument Valley and that dress weren't designed for the masses, but crafted to be discovered and then scale. Ustwo via a close partnership with Apple (which helped advise on adapting the game for China), and BuzzFeed with its relentless focus on unearthing stories worth sharing, including a personal favourite: '17 bizarre foods every Russian grew up with'.
3 Foster a culture of experimentation

So much of BuzzFeed's success is down to its culture: continuous experimentation is at the root of understanding what makes people share. However, it was founded to program for the stream and honed its craft, so don't imagine every organisation can 'be more BuzzFeed': partnerships are a better way forward.
We live in a world where 'six degrees of separation' applies as much to culture as it does to the people you are connected to. This morning I read the comments on a Guardian article about House of Cards. One comment corrects the journalist's description of the colour of the character Claire Underwood's dress as "ice blue" (it was grey, for the record). Naturally enough, the next commenter wryly replied: no, the dress was definitely white and gold.