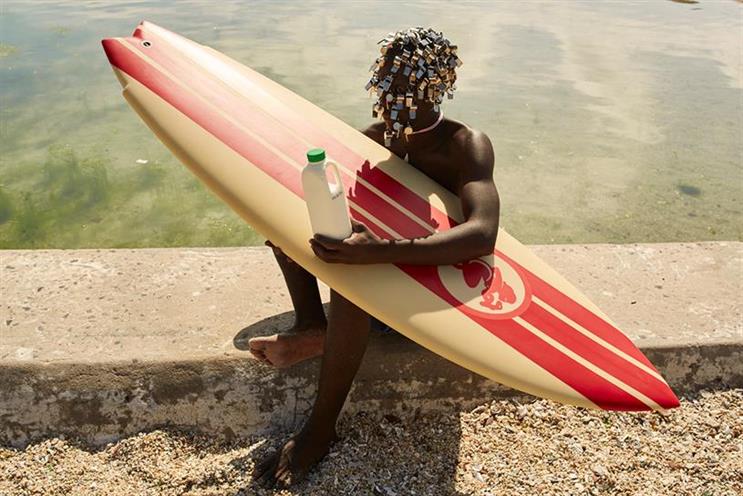 It's not often brands take their cue from a mythical spirit, but surf company Mami Wata is doing just that as it sets out to build a global creative business rooted in African culture.
Mami Wata, which means "Mother Water" in West African pidgin English, was dreamt up two years ago by an ad man and a journalist on a Cape Town beach, with a big ambition: To be "Africa's first great global brand," says the chief executive Nick Dutton. The company launched this month, designing surf apparel, surfboards and accessories inspired by Africa and sold internationally.
Dutton says the idea for the brand rose from a question: "Where are all the world-class African brands?" Mami Wata wants to be part of Cape Town's startup scene, but it sees itself as a brand that will represent people and cultures from across the continent.
"We believe Africa's time is coming," Dutton says. "Africa is gaining its own confidence and people are feeling that."
What sets Mami Wata apart is its creative flair and focus on design, adventure and nature. With its launch the brand unveiled a soulful, beautifully shot film that reveals the spiritual side of surfing rather than the adrenaline hyped up in other ads about the sport. It tells the story of 22-year-old Transkei surfer Avuyile Ndamase, who is seduced by the African water spirit.
Dutton, a former advertising account man who has worked at agencies including Grey, created the film in-house along with his two co-founders: Andy Davis, a former surf journalist and guide who now serves as chief surf officer in charge of content and product development; and creative director Peet Pienaar, a designer and performance artist. The trio recruited Argentinian directors Pato Martinez and Francisco Canton to shoot the ad through the production company Pantera.
A group of 10 people made the film on a small budget during a 10-day road trip from Durban to Mozambique, Dutton recalls. The team wanted it to "feel like a magical mushroom trip" with mystical and nature elements, he says.
"A lot of films that speak to the surf market are quite similar. Our aspiration for the film was about the unique sense of freedom you get," Dutton says. "It comes down to our experience of Africa and its visceral connection with nature."
Other efforts in Mami Wata's marketing plan will include a short film series profiling African surfers, a photography contest, and a fictional story commissioned by the brand and published in Cape Town magazine The Lake.
Pienaar says their creative vision is to "redesign surf as a category to make it appeal to a broader audience through being strongly African." Every product includes unique details such as tags with African sayings and cards for nature cures. One, for sea urchin wounds, advises the customer to "crawl up the beach and piss on the wound."
"There's a bit of attitude and humor," Dutton says. "We want to invite people in."
Dutton says brands that want to stand out must have a tone of voice apart from advertising, and make it approachable.
He also says all client businesses "have got to become creative businesses." For Mami Wata, that creative approach is evident from its quirky shirt tags to its own brand of coffee, which it started making because it decided its target audience would enjoy it.
Mami Wata's goals do not end there. The founders plan to establish a flagship store in Cape Town and eventually set up outlets in Japan, Europe and the US while continuing to build its e-commerce business. They also dream of opening their own surf lodges in places like Madagascar or Mozambique.
"You've got to take a creative leap," Dutton says.