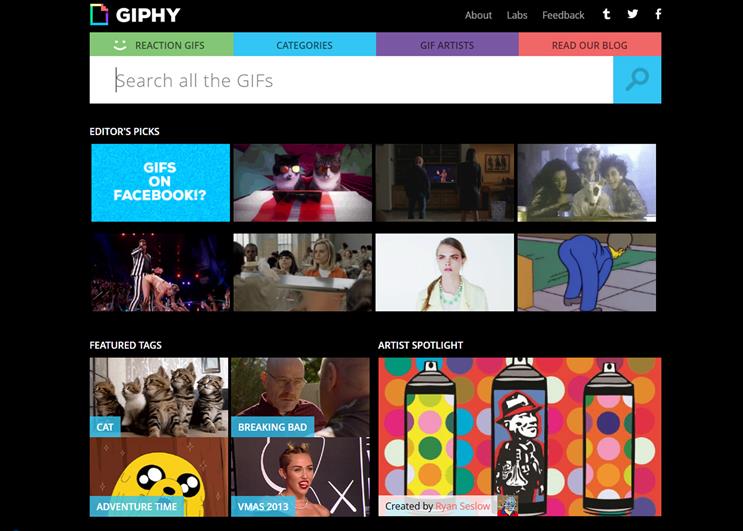 Like other GIF-featuring sites, Giphy holds myriad different images of Miley Cyrus twerking, kids breakdancing, and cats looking cute on endless, pleasurable loops. But Giphy has been making headlines for the past week for bringing GIFs to Facebook – which, unfortunately, is not strictly true.
Here is what you need to know about Giphy.
1 - Giphy announces Facebook-enabled GIFs
Last week Giphy posted this message:
"We did it. GIFs on Facebook! Giphy's got all the GIFs and now you can share them with your friends on Facebook. You can embed them right onto your timeline from our site.
"Not sure how to feel? That's why we created the GIF Reaction Page. So go ahead and try it out!
"Man, remember yesterday, when you couldn't post GIFs on Facebook? Nope, we can't either."
Why is this interesting? Well Facebook disabled its software supporting the GIFs long ago, which makes this quite a big development.
2 - This declaration wasn't stricly true
Mashable, among other tech commentators, outed Giphy for having bent the rules about what constitutes as a GIF file, as the example used by clothing brand GAP had to be clicked on instead of being coded to autoplay. Also, Facebook told Mashable that it "does not support animated GIFs".
3 - In terms of advertising, the semantics aren't important
While this internet hullabaloo is irritating for people like Mashable who had to apologise for being duped, and embarrassing for Giphy for twisting the rules, ultimately it doesn't matter.
What does matter is that GAP's tie up with Giphy made it the first brand to bring the closest thing to a GIF to Facebook as part of its #BacktoBlue marketing push, and Giphy is currently the only developer that can support this file on Facebook.