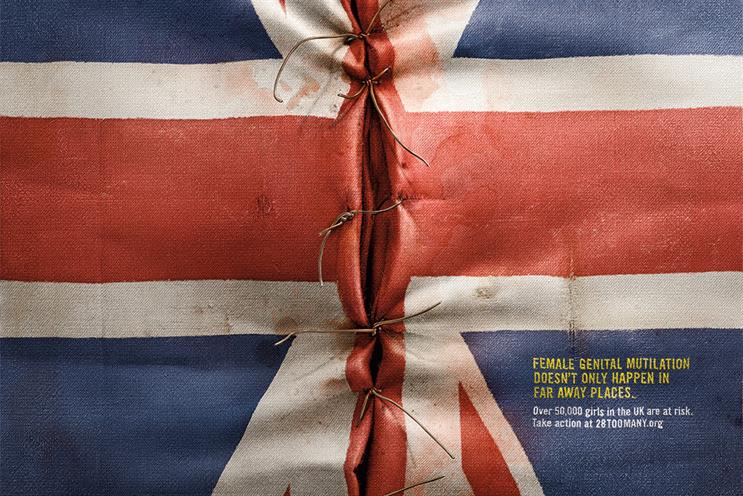 The WPP agency won the awards for its work for the charity 28 Too Many. Last month it released the 'It Happens Here' print and outdoor campaign, which explains female genital mutilation is an issue that affects people in the UK and across Europe.
Gerry Human, the chief creative officer for Ogilvy & Mather London, said: "I hope this award gives even more recognition to 28 Too Many for the brave work they are doing to end female genital mutilation. It shouldn't happen here or anywhere else in the world".
The Grand Prix Campaign was awarded at tonight's award ceremony to American agency The Community for it's work for the City of Buenos Aires.
Out of four UK agencies that were shortlisted for the Press Lions category, three won awards. Last year there were over 16 UK agencies shortlisted, with over half winning awards, including Adam&Eve/DDB, which won the Grand Prix in this category for its Harvey Nichols Christmas campaign.
This year A&E/DDB won Silver Press Lions: once again for its Harvey Nichols campaigns and also for its work for Mars's Temptation Cat Treats brand.
DLKW Lowe was awarded a Bronze Lion Campaign for its work for The Winston Fletcher Fiction Prize, which featured books from famous authors who used to work in advertising, such as F Scott Fitzgerald and Salman Rushdie.
Leo Burnett was the other UK agency to be shortlisted for a Press Lion, but was not awarded by the jury for its work for Karma Nirvana, a charity that supports victims of honour crimes and forced marriages.
The country with the biggest numbers of wins of the night was Brazil, which took nine Press Lion awards, including one Gold, one Silver, and seven Bronze.
France had the next-highest total with seven, including three Gold. two Silver and two Bronze.