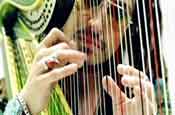 Pernod Ricard has shortlisted M&C Saatchi, Wieden & Kennedy Amsterdam and Paris-based Fred Farid Lambert to pitch for its global Jameson advertising account.

The review, which was exclusively revealed by Campaign on February 2, comes as Jameson plans to increase its global spend on advertising and promotions to £33.5 million - over 25 per cent from the 2006 figure.

The incumbent, Manchester-based BDH\TBWA will also repitch for the business. The review is being managed by Agency Assessments International.

BDH\TBWA has managed Jameson account for more than two years in which it developed a campaign to challenge traditional assumptions about whisky drinkers.

Its TV-campaign included three spots featuring unexpected musical performances from tap dancers, a? dreadlocked harpist and a septuagenarian drummer.

Globally Jameson enjoyed particularly strong growth in Russia, South Africa and the US but in the UK Mintel predicts the sales of whisky are predicted to fall at an annual rate of 9 per cent over the next four years.

Earlier this month its Diageo-owned rival Bushmills appointed Beattie McGuinnes Bungay as its global agency in a bid to position itself as a premium whiskey brand.

Neither Pernod Ricard nor Agency Assessments International were available to comment on the pitch.