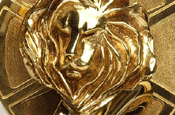 The ad, that questions distorted notions of beauty, won the viral Grand Prix. The two other Grands Prix were scooped by Nike+ from R/GA, New York, which took the top prize for online advertising and Farfar, Stockholm's "Heidies 15MB of fame" for Diesel, which claimed the Grand Prix in the web site and interactive campaigns sub-sector.
"We wanted to find the Titanium Lion winner before the Titanium jury finds it," Tom Eslinger, the jury president and Saatchi & Saatchi, Auckland's worldwide creative director, interactive and emerging media, said.
Profero was the only UK agency to bag one of the ten golds, for Mini "Follow the white rabbit". Mini was also the client in the UK's only silver-winning campaign, "Tug" by glue London.
Glue London was the most-awarded UK agency, picking up an additional two bronzes, for the Royal Navy "Get the message" and Coca-Cola "Boyband".
JWT, with "Idiots" for MTV/Autotrader, and Preloaded, with "CDX" for BBC History, were the other UK-based Bronze winners.
Crispin Porter + Bogusky was named Interative Agency of the Year, followed by Africa Propaganda in Sao Paulo and Forsman & Bodenfors in Gothenburg.
In contrast to some other Lions categories, each Cyber Grand Prix campaign was a clear winner, Eslinger said. Among the 2,700 entries there was a trend towards more varied means of consumer engagement, he noted, with less "mouse rolling" and more use of webcams and sound-activated sites.
Juror Fernando Romano, executive creative director at Lowe, New York, pointed out that there had been no technological break-through in the past year on which campaigns could ride. "It's becoming more and more about ideas," she said. "The Grand Prix winners have to be ground-shifting and game-changing."