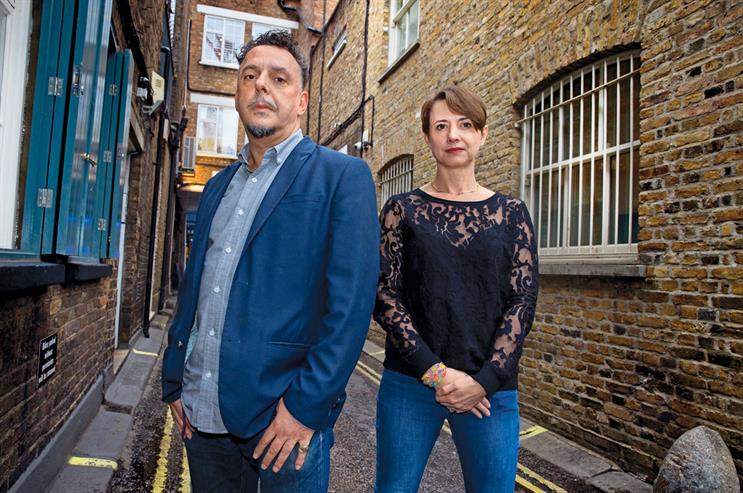 Marking its tenth year in production music, Felt has witnessed huge changes in the industry. Offering original composition, commercial licensing and a 7,000-strong, Mechanical-Copyright Protection Society-registered catalogue of music, Felt has its eye on the next decade. What does the future hold for MCPS production music, and will this long-established model remain an essential resource for the UK advertising industry?
There has been a positive shift in the perception of production music since 2004, as Dave Clark, the head of TV at FCB Inferno, says: "Ten years ago, most of my peers frowned upon it; I wrestled with creative teams over the necessity of its use. Particularly on lower-budget projects, options were somewhat limiting and anti-climactic."
Tracy Murray, the founder and creative director at Mint Music Consultancy, adds: "The major drawback I faced was the reluctance to go with something viewed as inferior to commercial music." She recalls trying to disprove this view by setting creatives her own "Pepsi challenge" – presenting music options without disclosing which was commercial or library music.
Now, the lines between commercial and production music have never been more blurred – a view supported by the explosion of "made for sync" commercial artists, as well as the many heavyweight composers (Hans Zimmer, David Arnold and Quincy Jones, to name but a few) currently offering music for licence.
But the current landscape still offers plenty of challenges for MCPS rights holders. The perceived value of music in general, especially in the digital age, seems to be declining at a time when the quality of the production music available has never been better. As Clark confirms: "Shrinking budgets and delivery times means music is often the first to get cut."
The lines between commercial and production music have never been more blurred
The creative agency's expectations on delivery and pricing have also shifted, with low-priced non-MCPS music providers enjoying a significant rise in market share. Ali Johnson, the global head of music at Audio Network (non-MCPS), says: "The outlook for production music is extremely bright, with significant growth in usage predicted for online video globally." He believes the key to success will be "high-quality music and a flexible customer-focused approach to continually changing market conditions globally".
This suggests that, in the long term, the battle lines will not simply be drawn on price. Indeed, non-MCPS music providers face their own challenges competing with the quality and scale of content and added-value services now provided by many MCPS publishers, such as the provision of stems, edits to picture, sound design and bespoke composition. The MCPS publishing sector is continuing to adapt and grow.
There are now more than 200 MCPS production music members. Collectively, the MCPS offers the UK ad industry a "treasure trove" of more than 600,000 works spanning every era, genre and style imaginable.
Alex Ball, a music producer at M&C Saatchi, believes there are two main reasons why MCPS production music continues to thrive: speed and budget. "The convenience of being able to access different tracks quickly will remain in demand. We want music quicker than ever before," he explains. "On the smaller-budget jobs, the MCPS ratecard is a known quantity. With budgets under scrutiny, demand will remain, although prices and definitions will probably change." Landy Slattery, a senior creative at 4Creative, agrees: "I think the model will evolve, becoming a more tailored service and, with technology becoming so accessible to the next generation of music-makers, it proves to be a very exciting time."
There is no doubt that greater access to music technology has helped to fuel a boom in the UK's composer talent pool in the past ten years, and Felt has looked to capitalise on this by maintaining a daily dialogue with a diverse network of specialist composers, many of whom are immediately available to amend an existing library work to fit an audiovisual production brief.
This is an exciting time. With a renewed emphasis on the customer experience, backed by the world's biggest and best collection of music, the future is looking positive
This approach is a good example of the ways in which MCPS production music has adapted to increase the value of its offering. Despite the growing competition, long-established MCPS composers such as Jay Price remain upbeat. He says: "Despite a seemingly endless amount of new music being produced and published, there are more TV channels launching and programmes, promos and ads being made." He believes that, to maintain quality in the long term, it is "vitally important that we continue to recognise both the skill and investment required in creating a quality piece of music".
In this sense, one of the MCPS's key responsibilities must be to monitor industry changes and continue to offer both value and sustainability. Edwin Cox, managing creative director at West One Music Group and publisher director on the Performing Right Society board, believes MCPS production music is still open for business, with many improvements in the pipeline. "As part of the next phase of development, we are focused not only on simplifying the rights package in all areas of licensing but also on an online, super-fast and easy, one-click licensing process," he says. "This is an exciting time. With a renewed emphasis on the customer experience, backed by the world's biggest and best collection of music, the future is looking positive."
The MCPS model has provided a platform for countless talented musicians in an industry governed not only by talent but also luck. It works because producers can allocate their budgets precisely and the rates are sensible, supporting the industry and offering superb value for money.
---
Steve Spiro is the creative director and Natalie Dickens is the managing director at Felt