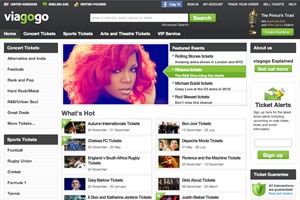 In a case between the Rugby Football Union (RFU) and secondary ticketing website Viagogo, the Supreme Court ruled that Viagogo must reveal the names and addresses of people who resold tickets to England rugby matches on its site.
The RFU monitored Viagogo in 2010-2011 and found that tickets to its events were being sold for up to 20 times their face value, breaching its ticketing terms and conditions.
It found the website was used to advertise thousands of tickets for England games at Twickenham. Tickets with a face value of £20 to £55 were advertised for up to £1,300 and blocks of tickets up to 24 were offered for sale.
It now plans to enforce sanctions on resellers, ranging from naming and shaming touts to forcing them to return profits made from reselling tickets.
The RFU has taken legal action in the past against those who breach its ticketing conditions, but had previously been unable to address sites like Viagogo as they offer anonymity to sellers.
The ruling marks a step forward for those campaigning against various practices within the secondary ticketing market, where tickets are often sold at inflated prices before consumers have a chance to buy them at face value.
A Channel 4 Dispatches investigation earlier this year revealed that Viagogo and other secondary ticketing sites were reselling tickets directly from promoters at higher prices, as well as using their staff to bulk-buy tickets to sell at a profit.
Viagogo Limited went into liquidation a month after the revelations but the company is still trading through a similar name, Viagogo AG, based in Switzerland.
Viagogo told Event the court ruling was a "hollow victory" for the RFU after two years of legal action against the website.
Ed Parkinson, Viagogo's marketing manager, said: "While the RFU may have run off with a handful of names from sales that took place several years ago, I can assure you that this will not happen again. Thanks to the RFU and the publicity they have generated around this case, our rugby ticket business is bigger and our data protection is better, so fans may therefore now buy and sell rugby tickets on Viagogo with absolute confidence that their information will be protected in future."
Will naming and shaming reduce ticket touting? Comment below and let us know what you think.
For more in-depth and print-only features, showcases and interviews with world-leading brands, don't miss the next issue of Event magazine by subscribing here.