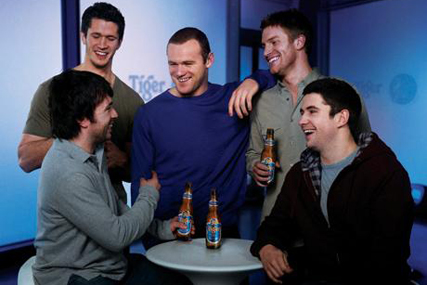 The news coincides with recent tabloid revelations about the football superstar's alleged involvement with a prostitute while his wife Coleen was expecting their first child.
From Saturday (18 September), Tiger Beer's high-profile TVC featuring Rooney was absent from TV ad breaks during pan-regional broadcasts of the Barclay's Premier League soccer.
A spokesperson for Asia Pacific Breweries confirmed the TVC had been taken off the air "as the World Cup season, for which the ad was produced for, is over." The Fifa World Cup finals concluded on 11 July.
The spokesperson said: "For your information, there is no change to APB's commercial arrangements with Wayne Rooney at this point in time."
A source close to the brand said the TVC had been "put on pause" until the current press furore died down.
The sources said: "They have a two-year agreement with Wayne, so this doesn't mean the end of their relationship."
The high-profile television commercial, entitled "The Game Never Ends", launched in April. It portrayed Rooney employing his on-field finesse in a bar to win the last bottle of Tiger Beer.
The ad was crafted by Irisnation Singapore for the regional markets of Singapore, Malaysia, Vietnam, Laos, Cambodia and Mongolia to complement Tiger's other football initiatives, including its broadcast sponsorship of the Barclay Premier League in Southeast Asia.
The campaign comprised both print and television commercials.
Edmond Neo, director of group commercial at Asia Pacific Breweries, back in April, said: "Tiger is delighted and proud to be associating ourselves with Wayne Rooney, one of the world's best football players, known and admired worldwide.
"Rooney has demonstrated passion for excellence and determination to outperform himself every time he plays a match. His resolute will for winning and success, an attitude which Tiger pursues and embraces, makes him the ideal football champion of the campaign. Being an inspiration, his pairing with Tiger will certainly light up the screen."
From this weekend the Rooney TVC was replaced with an older ad, in which the protagonists body-morph as they compete for the last bottle of Tiger Beer.