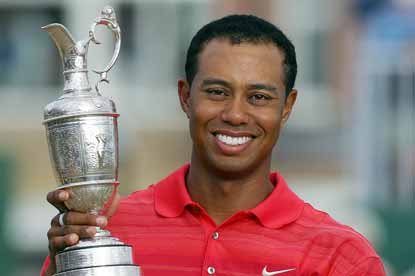 According to a Bloomberg report, Wood's decision to take a break from golf following stories about marital infidelities, could reduce tournament crowds by 20 per cent.

TV audiences could shrink by up to a half, with Nike standing to lose up to $30 million in sales.

CBS Sports executive producer Rick Gentile said: "It is not so much a ripple effect as it is a tsunami. The aura is gone."

During October, $576.4 was spent on weekend golf broadcasts, according to TNS.

When Woods was out with a knee injury in 2008 and early 2009, weekend television audiences sank by 47 percent, according to data from Nielsen.
It has been reported elsewhere today that Tiger Wood's wife Elin Nordegren is in talks with Nike rival Puma about fronting a Swedish-inspired clothing line.

The Sun quoted an official for the new Puma brand, called Tretorn, as saying they had approached Woods' wife as she's a "good brand fit".
Former Swedish swimwear model Nordegren is reported to be considering a divorce from Woods as the number of women he has been linked to rose to 11.
A messy divorce will likely further damage the Woods' brand image and his value to advertisers. An unidentified source told People magazine in the US that Nordegren had already met divorce lawyers to discuss her pre-nuptial agreement and she could win half of the estimated £337.5m Woods has earned in the five years they have been married.