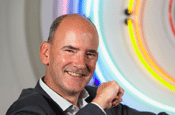 Leslie Butterfield is creating a strategic brand consultancy called ButterfieldPartners while Andy Tilley is reviving Unity, the consultancy he founded with Derek Morris and Ivan Pollard and which was acquired by Ingram to form part of its London offering.
Ingram's London operation will close this week after its founder failed to sell or merge the business. Ingram is launching a new venture called IngramEnterprise, that will represent his businesses in New York and China as well as offering media, communications and sports and leisure consultancy.
ButterfieldPartners will launch with a client list including Alliance & Leicester, Argentinian restaurant chain Gaucho and cosmetics brand Becca. Butterfield, who before joining Ingram ran his own consultancy called Butterfield 8, will be joined in the new venture by former Ingram colleagues Sarah Heard, Jane Lingham and Suzanna Jackson.
Tilley is relaunching Unity as a brand and media strategy consultancy. He is the lone founding partner, but will draw on a range of independent consultants in specialist areas. Tilley will offer the service of constructing cross-platform campaigns by taking clients directly to a range of media partners. Unity's founding client is Leonard Cheshire, the charity for the disabled.
Butterfield said of his new business: "After a couple of roller-coaster years, it's really good to be able to focus back on my core area of strategic brand advice."