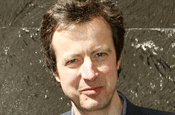 De Lisle, formerly deputy editor of the magazine, succeeds Edward Carr who will become editorial director of Intelligent Life, in addition to his role as business affairs editor of The Economist.
De Lisle is currently the rock critic for the Mail On Sunday. His previous roles include arts editor of The Times and the Independent on Sunday, and the Weekend editor of the Daily Telegraph.
He has been a sports columnist for The Times and feature writer for the Telegraph and the Guardian.
De Lisle has hired Julie Kavanagh, previously London editor of the New Yorker and Vanity Fair as a contributing editor to join the senior editorial team.
De Lisle said: "Intelligent Life has rapidly established itself as a distinctive presence on the news stand, offering lifestyle with substance, mixing leading freelance contributors with the deep well of talent at The Economist, and adding great photography and illustration."
"It's a title people really want to work for. I've really enjoyed being deputy to Ed Carr and I'm excited to have the chance to carry on his good work."