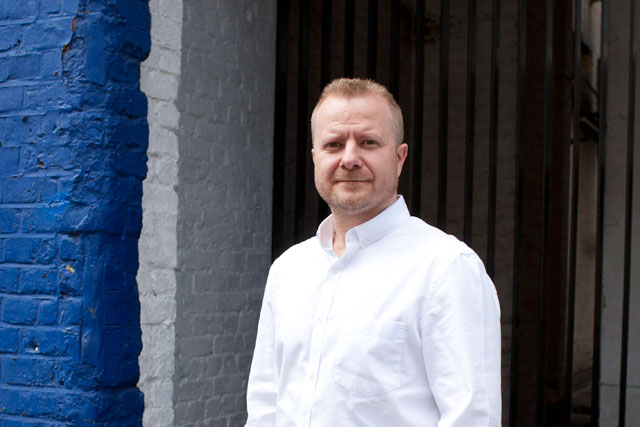 Before Tim Arthur sits down to speak with Campaign in his office, he receives a quick debrief from his editor-at-large, Alexi Duggins, who has just returned from paddle-boating in the Thames. "It was alright," Duggins says, "though I nearly fell in. I'm going to go and wash my hands as I cut them and they pointed out you can get Weil's disease."
Though it probably wasn't on his original job description, Duggins has recently had to accept that his job has hazards, because Time Out has created a new feature where he has to complete a wacky task each week set by a reader. The week before, he had to sleep in a stationary taxi that was being rented out as a place to crash by a taxi driver trying to make a quick buck during the Olympics ("not great if you need a piss in the night"). And before that, he had to endure meat-flavoured cocktails at a bar in Camden - "just wrong", he says.
Duggins looks like a starved but chirpy Dalston lad who probably cut his teeth writing music reviews for a local rag; Arthur, who has worked his way up through Time Out and has been the editor since September last year, looks like a relaxed boss with his shirt rolled up his arms. Both seem to be very happy at work, writing about one of the best cities in the world, so people say, and having editorial meetings about taxidermists who fashion musical instruments out of dead badgers.
The journalist Duncan Campbell, who was news editor of Time Out in the 70s, recently bemoaned on his blog that it had lost its radical roots. Founded by Tony Elliott in 1968, Time Out was a left-wing weekly that listed agitprop demonstrations - nowadays, Campbell writes wanly, the magazine has coverlines such as: "Has Harrods created the best toy shop ever?"
Campbell argues these radical days came before the magazine took off commercially, undeniably forcing its hand to become more mainstream. And now with the news that Time Out will relaunch as a free publication in the autumn, it seems inevitable that it will be dictated to a greater extent by commercial demands, especially as the ad team are hoping to entice more consumer brands to the party.
Arthur concedes that Time Out hasn't been radical for a long time: "We were radical when there were radical movements, we've been responsive to things when it needed responding too. But we don't have a radical agenda that we are trying to ram down people's throats - we just respond to what we think is most happening in London and reflect it back to our readers."
It is not a surprise that Time Out is going free. At its peak, the magazine sold more than 110,000 copies - now it is roughly half that. As a listings title, Time Out was always going to be vulnerable to the migration of listings and reviews to the web. And while it has worked on establishing a solid online proposition (in the UK, it has four million unique users a month), consumers are less willing to part with £3.25 for the printed product.
A steady fall in circulation and ad revenue in the noughties meant Elliott was forced to put his own cash into the business, eventually selling half of it to the private equity company Oakley Capital in 2010. This investment has given Elliott and his team the confidence to change the business model. Arthur says: "Why settle for the magazine at this circulation, when we can get that bigger reach?"
To add to this, Time Out exists in a London-focused publishing business where most titles are now free - something Arthur is all too aware of judging by the copy of Stylist lying on his desk. The flipside to this is that Time Out will no doubt fly happily into the hands of many Londoners, especially if the recent free sampling deal LOCOG struck with the title is anything to go by.
Time Out was handed out free for the three weeks surrounding the Olympics - a proposition LOCOG took to Time Out, which happened to double as a useful trial ahead of its free launch. Arthur is encouraged by the response - the people handing them out in Trafalgur Square "couldn't get enough of them", despite the trial beginning with a 200,000 circulation.
But while media agencies are overall welcoming the move to a free model as it means six times the reach (the aim is to have more than 300,000 copies distributed mainly across Zones 1 and 2), heads of press are concerned that the editorial quality might suffer. If it does, clients won't easily part with the higher rates Time Out is asking for to make up the loss of its coverprice.
Arthur is adamant that the editorial will remain strong: "We've got nearly 45 years of doing great editorial, and what we were determined about is that we wouldn't throw that away and we wouldn't dumb it down. We want to produce a product that people genuinely feel has worth, even though it is free."
Reluctantly, Arthur allows Campaign a sneak peek of two dummy copies of what the new free magazine might look like. One has the paper quality of a poor man's ShortList. By far the more pleasing option is the dummy with the glossy cover, which still bears a relation to the old Time Out. The first looks like it is imploring you to read it for ten minutes on the Tube, the second looks like it is saying "grab my hips, take me home and keep me all week" - vital for keeping the subscribers happy too, who will still be able to receive it but for the price of posting.
The new Time Out will also look different content-wise, with a new upfront news section and an expanded Around Town style section - in all, it has a slightly more consumer feel, but all the major sections of music, nightlife and film remain. The key change is that the bulk of listings that normally take up half the magazine will be stripped out, with readers directed to the website for this information - something Arthur says they are doing anyway. It frees the magazine up to focus on the best events of the week and also means the pagination can be cut back to save costs - the new magazine will be 72 pages instead of the usual 124.
Arthur is positive that with the free move, the brand will not only be ubiquitous but more clearly carved up into useful products: "We think that if you want listings for everything - our website has that. If you want to find out what event is on nearest to you at a certain time, the mobile app is best with its geolocater. But if you want to have a really fun read, that's still got informed, intelligent writing and is probably the purest Time Out voice, that's the magazine."
TIME OUT'S STORY
1968: Tony Elliott starts the London listings magazine with birthday money from his aunt. It is a one-sheet pamphlet that he hands out himself and is dedicated to the music scene and political issues.
1970s: Time Out is at the forefront of covering topics such as early gay rights and the women's movement, while also promoting the alternative art scene.
1981: Elliott abandons Time Out's original co-operative principles. Some staff leave to start new publications such as City Limits, which is based on the Time Out model. Time Out remains top of the market, with City Limits closing in 1992.
1995: Time Out launches in a second city - New York.
2005: Time Out Chicago is unveiled.
2009: Time Out London launches free iPhone app sponsored by Smirnoff.
2010: Elliott sells a stake of the London edition and most of the company's non-US holdings to the private equity group Oakley Capital, valuing the company at around £20 million.
2011: Oakley Capital makes a significant investment in Time Out New York to help Time Out Group become a global digital media player.
July 2012: Time Out London launches iPad app sponsored by MasterCard.
August 2012: Today, Time Out publishes 37 editions around the world, 27 of which are in print and online, covering cities from Abu Dhabi to Zagreb.
Autumn 2012: Time Out London magazine becomes free and is distributed in transport locations and cultural venues across central London.