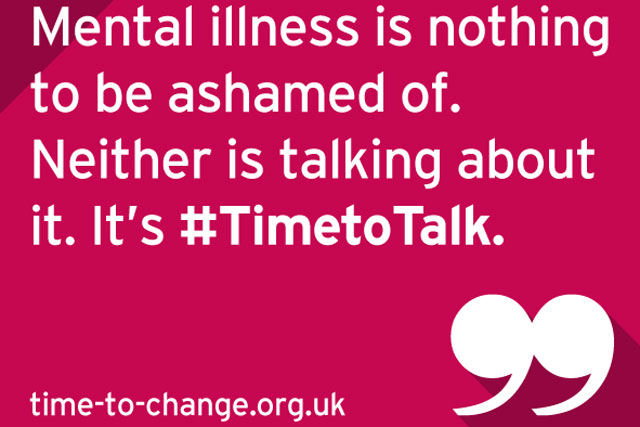 Digital activity promoting the 'It's time to talk. It's time to change' campaign starts today, while the radio activity kicks off next week with advertorial messages across Real Radio stations in the North-East, North-West and Yorkshire.
In addition to on-air editorial features, the Time to Change pledge to work to end stigma will be promoted on the stations' websites for a three-week period. Key presenters in these regions will also endorse the message during their shows.
A radio ad, created by The Outfit, will run from next week on national and regional stations such as Global Radio's Heart, Capital and Xfm, Bauer Media's Kiss and UTV Media-owned TalkSport.
The Real Radio Patrol, where individuals take the Real Radio brand to the street, will help to promote the need to tackle mental health stigma and discrimination in major cities across the North and Yorkshire including Manchester, Newcastle and Leeds.
A new set of pop art-inspired postcards has also been created to give supporters the chance to share tips on starting a conversation about mental health.
Digital advertising consisting of pay-per-click advertising, paid-for search and search engine optimisation (SEO), starts today and will run until 30 August.
Both radio elements of the campaign start next Monday 12 August and will run for three weeks. M4C did the media buying for the campaign.
Sue Baker, the director of Time to Change, said: "Local radio stations have high audience figures within their local community and are the perfect medium for starting conversations.
"It's a great fit for us to be working with Real Radio as they talk to their listeners every day on-air, but also engage them directly in real time on the phone, text, email, twitter and even on the ground with their street teams."
The campaign aims to highlight the small things people can do to support someone with a mental health problem. It shows how conversations can make big difference to people's lives and aims to demonstrate that talking about mental health is not as frightening as people think.
Mark Lee, the chief executive for Real Radio, said: "Through the various channels of communication we have with our listeners, Real Radio can connect on many levels and encourage people to think about how mental health issues are viewed, breaking down barriers in the process."
In a recent campaign launched in January, Time to Change partnered with media owners Channel 4 and IPC Media.
According to Time to Change, the campaign reached over 43.5 million people; prompting more than 640,000 people to start a conversation about mental health, while 2.8 million said it made them think about asking someone "how they were doing".
Time to Change launched its first programme in 2007. Since then, research published in the British Journal of Psychiatry suggests there has been an 11.5 per cent reduction in average levels of discrimination.
Global Radio bought Real Radio-owner Real and Smooth Ltd, then GMG Radio, last year and the merger is currently subject to a competition investigation.