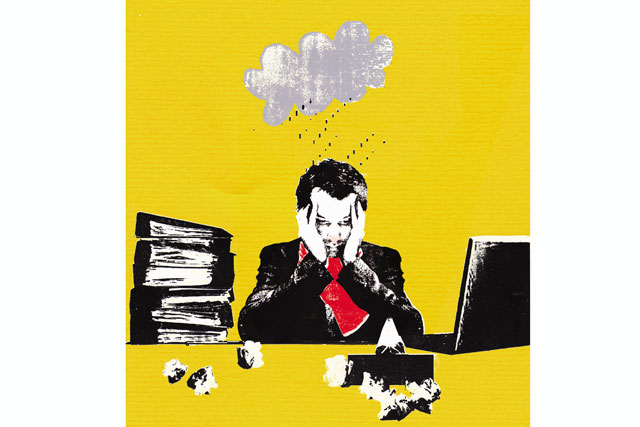 In many ways, I'm a lot like a professional footballer. There's my athletic physique, my fleet-of-foot co-ordination and the two Bentleys I park outside my tiny flat in South-East London. Most agree it's a wonder I'm not playing for Crewe Alex more often, especially now Dario's back.
Despite my natural flair for the beautiful game, there has only been one occasion when my world and the Professional Footballers' Association's have crossed. That was on the occasion of my nervous breakdown.
I'm an employee at an advertising agency in London. I'm good at what I do and I am someone who suffers from severe depression and anxiety. At the beginning of 2012, I lost control of my illness and had a breakdown. I was extracted from London's adland for an undefined term. While I was off work, my state of mind meant I didn't leave the house. I slept through spring and, on several occasions, weighed up whether I'd be better off committing suicide. My recovery took months. But I did recover.
This industry of progressive, interesting and interested people isn't famed for its progressive approach to human resources. That's not the case where I work. My agency of beautiful misfits gets along just fine in that department. I was backed all the way by its management team and my colleagues. It was touching. When I did make it back to match-fitness, my agency still believed in me enough to allow me back to work. I was touched. My experience of depression was handled by sympathetic, enlightened and experienced agency folk.
While I was "on leave", Gary Speed committed suicide. Depression was cited as having set the co-ordinates of his path towards taking his own life. It was a tragic loss for his family and his fans. His death saw depression being talked about on the front pages of newspapers. Suddenly, I was reading about someone else who had depression. Not the poor sod in every NHS leaflet, but a man of honour and responsibility. Slowly, stories came to the surface of other sportsmen's struggle with the illness. At the time, I can remember thinking that the only good thing about any of this horrendous loss and illness is that depression is being talked about. Finally.
The following summer, the PFA mailed every one of its members an information booklet on depression and anxiety. Its message was simple: being a footballer doesn't make you a superhuman. Despite the seemingly endless opportunities afforded by the trappings of a life led at the top of the sport - many people's dream job - footballers suffer from depression too. By God, it has killed one of the game's elder statesmen. I'm not a professional football player, but I did manage to get hold of a copy of the booklet in question via my Alderley Edge connection (I'm a Cheshire lad by trade). It's good. Really good. Simple, truthful and reassuring. It set me thinking.
At any one time in the UK, 21.5 per cent of women and 13.6 per cent of men will be suffering from depression or anxiety*. That means a number of your staff are probably struggling with something on the mild-to-severe scale. Depression is among the leading causes of disability, affecting about 151 million people globally at any one time**. Yep, that's a lot. More than what your last campaign reached. A lot of footballers, bank robbers, architects, nurses, financial consultants and account directors.
The problem with depression is that it's not visible. You don't wander into the office one day with the obvious effects of the illness written all over your face like shingles. It's not cool to talk about it at work for fear of being labelled a loon or, worse, a vibe-killer. Often, the first sign of something being wrong is when it's too late. That person breaks down, or worse.
The point is that we need to talk about this illness more. More people need to be comfortable with the fact that it exists, that they or their staff might suffer from it and that it is OK. They're not alone. There is help and support available. Frankly, if the PFA can inform, coach and support its members on the subject, it would be a shame if we broad-minded, creative, largely liberal folk can't do that too. We should be able to top their direct mail too, by the way. Do I believe we will stand up to the stigma? Not enough to put my name at the end of this article for fear of retribution or limiting my career long term. Wake up, adland. Wake up, UK.
* Adult Psychiatric Morbidity In England, 2007 (2009) edited by S McManus, H Meltzer, T Brugha et al ** The Global Burden Of Disease (2008) by the World Health Organization