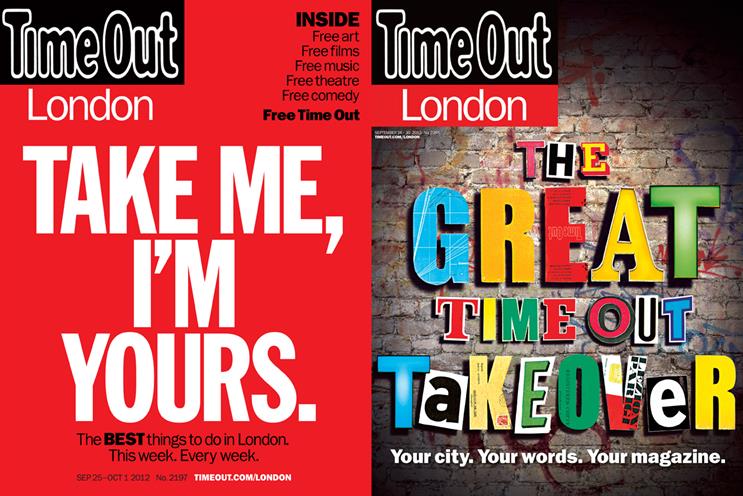 Time Out is now 45 years old but, in many ways, it's brand new.
The London listings title was launched in 1968 as a counter-culture magazine by Tony Elliott and run as a co-operative until 1981. An early champion of gay rights, and known for taking a non-conformist role, one issue revealed the names of CIA agents believed to be stationed in the UK.
Today, Time Out is half-owned by the private-equity fund Oakley Capital and is just as likely to be reviewing the One Direction movie as recommending the latest underground nightclubs.
The magazine arguably made its most radical move a year ago this week, when it scrapped its £3.25 coverprice to become a free publication. Distribution increased sixfold to more than 305,000 copies overnight and ad rates are thought to have doubled to around £5,000 per page.
The move was a critical one for the business. Ad revenues were waning and circulation had slipped from 92,000 in 2006 to 52,000 in the first half of 2012. Elliott had been forced to invest £3 million of his own money as the company struggled with debts, until salvation came in 2010 when Oakley bought 50 per cent of the business for £10 million.
The relaunch brought a slimmed-down magazine, reduced from around 120 to 72 pages, while ad pages have stayed constant at around 30. Commercially, the move has made Time Out more attractive to media agencies, David Mulrenan, the group trading director at ZenithOptimedia, says. It is credited with attracting brands beyond its core advertisers in film and entertainment, such as MasterCard and British Airways.
Becoming free has boosted the title's already robust digital presence: the website attracts 5.5 million unique users a month, up 69 per cent year on year. Multiple revenue streams include ticket and table booking, daily offers and the new Time Out Card. Adam Crow, the head of press trading at MediaCom, praises Time Out for being "very progressive" in the digital space and says adding 300,000 free distribution copies to a brand with that particular breadth "has made lots of sense".
It's harder to judge how editorial has fared since the move, with shorter, punchier copy that is more mainstream, tightly controlled and less free-flowing, gaining both advocates and detractors. Among the most controversial moves has been the loss of much of its once core London listings sections inside the magazine to online.
One thing's for sure, with its increased print distribution and growing digital presence, Time Out has never reached more people. However, with no copy sales contributing to the bottom line, the magazine is at the mercy of the advertising market, while its larger circulation means mounting distribution and production costs. Revenues were up 12 per cent in 2012, but operating losses rose by more than a third to £3 million last year.
The exit earlier this month of the chief executive, Aksel van der Wal, signals more changes at Time Out.
He advised on the deal with Oakley, which has this year had to invest more money into the brand. His duties will be assumed by the editor-in-chief, Tim Arthur (pictured above), on an interim basis. Both were unavailable to comment. But having defied the doom-mongers more than once, Time Out will be hoping to continue its journey as a free, global multimedia brand.