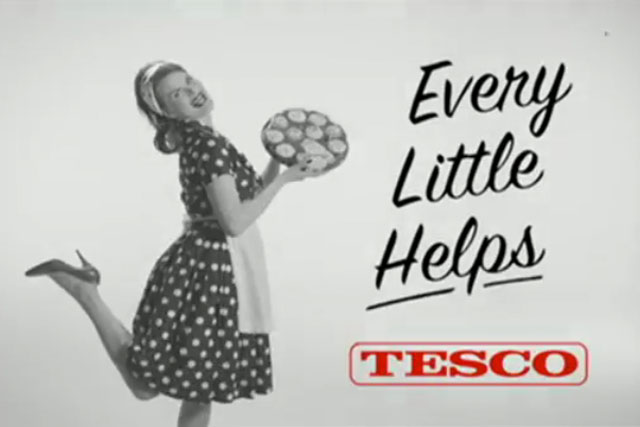 When Tesco put its creative ad account out to pitch in April, it said the review would help 'build a better Tesco' and that it was open to all ideas. However, few would have thought that its 20-year-old strapline, 'Every little helps' (ELH), might also be up for review.
It has emerged that a central part of the talks with agencies is whether ELH should be retained. The message is that there is a total commitment to change, so nothing is untouchable.
Being brave and relevant is key, according to Magnus Djaba, chief executive of Asda's ad agency, Saatchi & Saatchi. While at Fallon, he led the team that axed Orange's 'The future's bright' in 2008.
'An endline has to be relevant and true for the people you're trying to reach and your brand,' he explains. 'In no category is this more important than retail, where people have regular first-hand experience of you.'
Opinion is split on what Tesco should do, but admiration for one of the best-known straplines is unanimous. Here we outline the arguments for keeping or reviewing ELH.
TIME FOR A CHANGE
Janet Lee
Owner of retail consultancy Benjanto, and former Tesco marketer for Express, Tesco.com and Clubcard
When ELH was created in 1992 it galvanised the business, becoming the DNA that held it together, focusing everyone on putting consumers first. With Tesco's challenges now, it is right that ELH is reconsidered and reviewed. Is it still valid, or is there something more appropriate? I would think that many consumers might look at ELH and question whether it is true. I would be desperately sad if ELH were culled without serious consideration, but would be sadder still if it was kept just because it's been around for 20 years.
Neil Saunders
Managing director of retail analyst Conlumino
The strapline has become ubiquitous to the point of being meaningless. If the proposition doesn't stack up against the spirit of the strapline, then it's a pointless, or even damaging, thing to have. A new strapline will help change views on Tesco, but only if the day-to-day shopping experience changes as well. A fresh start would be most beneficial. However, Tesco can't afford for something new to be a damp squib. Whatever it does, it needs to put the heart and soul of the business into it - otherwise it runs the risk of being greeted with scepticism.
Mark Sinnock
President, strategy and planning, Ogilvy APAC, and an ex-marketing director at Asda
If I had £1 for every time I've been asked for an 'Every little helps', I would be very rich. It has become a 'high church'; its nuance, flexibility and elasticity represent global marketing excellence. Tesco is at a crossroads; every part of the organisation is under stress as it searches for a way back to growth. The brand must create energy and re-engage customers. If ELH isn't helping, then it's time to search for a new direction, sensibility and focus that can give the brand the hit of adrenaline it needs.
HERITAGE WORTH KEEPING
Patrick Allen
Chief executive of consultancy One Degree Connect, and former executive director of marketing at The Co-operative Group
ELH has become part of the vernacular. However, whereas some words become generic, such as referring to a Dyson 'hoover', ELH has remained allied with Tesco. If it dropped the line, the competition would certainly be happy; everyone has tried to emulate ELH. Tesco should be looking at how to reinforce it, making it real for consumers, not throwing it out. It must consider whether it is as relevant today as it was 15 years ago, but I think in another 15 years it could still be relevant. If any brand has such gold dust, it should keep hold of it.
Angus Maciver
Chief executive of McCurrach, and former Morrisons group marketing director
A strapline is not that important; it is the proposition within the positioning that is, and a good strapline should summarise that well. In the case of ELH, it is a great embodiment of a service proposition that was applied to the whole shopping experience. Over time, however, it has narrowed in meaning due to the dominance of pricing messages in the advertising. It may be easier to rejuvenate ELH back to its roots, but would that be as exciting or refreshing as something new? My view from outside is that it could be salvaged, but I would understand if the Tesco team felt differently.
Mark Dickens
Retail consultant at Wanda, and founder of agency Astound, which was responsible for the Tesco rebranding activity in 2002 that brought ELH to the fore
To me it sounds like chopping off your leg because your toes are hurting. Sainsbury's changes its strapline regularly and as a result it doesn't mean a lot to people. Tesco, like a lot of companies, has stopped trying to make its strapline really mean anything. I'm sure (Tesco chief executive) Philip Clarke feels the temptation to make some sweeping changes, but it is not about three words; it's about how people feel about Tesco. ELH is emotionally versatile; the art of it is its ambiguity. It's a blank canvas that can apply to value, convenience, quality, availability and more. ELH transcends being just a strapline.