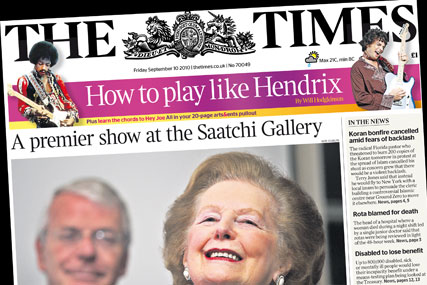 August's ABCs figures reveal The Times registered a circulation of 494,205, down 1.67% on July.
Murdoch acquired The Times and its sister title The Sunday Times back in 1981 as he looked to build up his newspaper empire.
Today's figures also reveal that Murdoch's paywall strategy has not prompted an immediate rise in readers buying printed issues of The Times as executives had hoped.
Murdoch introduced charging for editorial content on TimesOnline.co.uk from July 2 this year. Its circulation has dropped off in consecutive months since June.
Across the rest of the market, Lord Rothemere's Daily Mail registered a 2010 record high circulation figure in a month traditionally quiet for the nationals.
However, all the London-based qualities registered six-monthly low figures.
The red-top and mid-market papers fared better and benefited from flooding their pages with football coverage ahead of the new season.
The 50p priced Daily Mail registered a circulation of 2,169,690 in August, a 2.45% increase on July and its best circulation figure of the year.
Mail Newspapers circulation director Neil Jagger attributed part of its success to its promotional activity.
He said: "A combination of excellent collectable promotions, including our every popular Dream Cottage and i-spy books to break up those long holiday journeys, underpinned by a major growth in our subscriber base, have helped the Daily mail to produce the best results in a challenging market."
Red-top rival The Sun also performed well in August, registering a circulation of 3,009,987 in the month, its second best circulation of the year. It circulation was, however, down 1.07% on the previous month.
Richard Desmond's Daily Star registered a six month circulation high of 862,005. But the Daily Mirror fell 0.76% to 1,232,961.
The quality sector will be licking their wounds when they browse over their performances in August. The Daily Telegraph, The Guardian and The Independent all recorded five-month record low circulations.
The Guardian fell 1.85% to 272,112 while The Daily Telegraph dropped down 0.79% to 673,010.
View August 2010's Newspaper ABC figures
Read more on The Wall