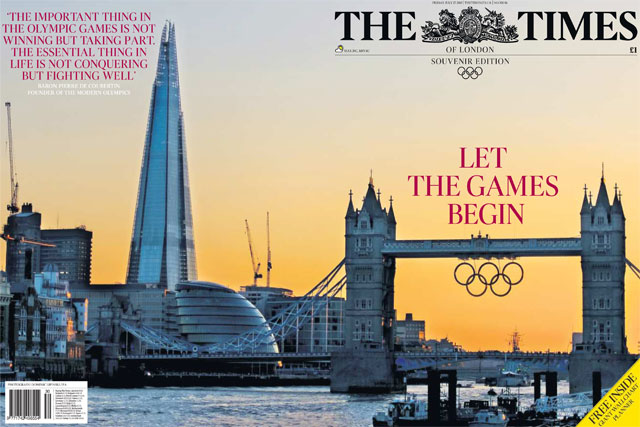 According to unofficial estimates, the quality and mid-market titles, which produced Olympic special issues on the day, were the chief beneficiaries of the excitement around the Olympics.
In June The Times' on Saturday reported an average circulation of 480,132.
On Saturday 28 July its circulation was up an extra 80,000 to 100,000 more. That day's edition featured an Olympic cover wrap and was distributed around the Olympic Park.
Its circulation boost on Saturday mirrored the bumper sales of its diamond jubilee souvenir edition.
The Telegraph, which has invested heavily in the Olympics, reported a circulation lift of up to 30,000 on top of its Saturday average of 753,110.
The Guardian lifted its Saturday average of 371,155 by 15,000. But a source close to the Guardian said its circulation lift was higher than that.
The Saturday issue of the Daily Mail, also featuring an Olympic special, was up 50,000 on its average Saturday circulation of 2,614,906. The Daily Express was up 25,000 copies on its Saturday average of 634,192.
The Sun and The Daily Mirror were flat on their respective Saturday averages of 2,908,045 and 1,259,841.
Follow @johnreynolds10