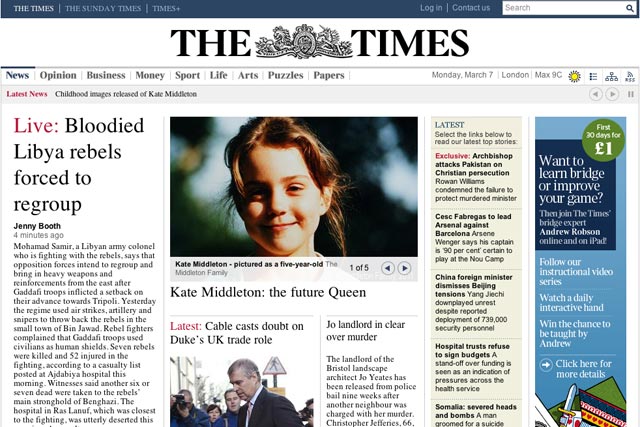 The publisher of The Times and The News of the World, has spent the last year erecting online paywalls.
It has revealed to Media Week the results of research conducted between October 2010 and January 2011 by research company Promise.
The research explored reactions to three types of online environments – paid-for (The Times), a free-to-access quality news site, and an online portal.
Consumers in a paid-for environment were found to be more engaged with the content, have higher expectations of the quality of the content, and have a more positive response to brands.
Specifically, both brand and message recall on The Times' site was found to be 21% and 18% higher than the average for non-paid sites respectively.
The study also explored the overall appeal of all three sites, as well as the perception of specific brands to see how they performed in each of the three environments – focusing on the travel, luxury, automotive and finance sectors.
The results of the survey revealed The Times differentiates from the other sites tested, on clarity, exclusivity, engagement and "premiumness".
The Times website was also considered to be a more "premium" platform than other general news sites, and also scored higher in subjective ratings of "trust, believability, clarity, exclusivity, engagement, expectedness and fit".
News International claims the quantitative stage of this research involved 1,000 subscribers to The Times website, and 900 non-subscribers.
Unfortunately, News International failed to provide details of the other open-access news sites used as benchmark in the study.
A de-branded ad test was also conducted across the three sites. In this, male users were found to be prepared to pay 24% more for a de-branded suit on The Times website, while female users were prepared to pay 17% more for a generic black dress.
But subscribers, while more engaged with the content, also expect more in return on a paid-for website – with higher expectations of relevance, exclusivity, and reciprocity.
Alex Hole, digital director of News International Commercial, said: "This research shows that The Times website offers clients a premium environment for their advertising and that brands that advertise have a higher perceived value".
The scant details and generalised nature of the findings are unlikely to provide the irrefutable evidence that will shift advertising budgets by itself, but News International hopes the results will add fuel to the debate surrounding the online publishing experiment.
Findings from the study are currently being presented to media agencies.
The survey follows a study by the Association of Online Publishers in December, which explored the link between website environments and advertising engagement.
The industry-wide research examined the relationship between consumer engagement with website content and particularly their reaction to advertising on different website types – original content sites, portals and social networks.
The findings of the AOP study, conducted by GfK NOP, highlighted that engagement and advertising responsiveness is strongest on original content sites compared to other site genres.
While the study did not distinguish between paid-for and free websites, content sites were found to be better at influencing positive brand opinion, with 32% of respondents feeling "more positive towards a brand" on a site, compared with 17% for portals and just 14% for social network sites.
Respondents were also found to be almost twice as likely to trust advertising and brands on content sites versus social media sites, while they are almost three times more likely to believe that content sites are better than social media sites at influencing positive brand opinion.
By examining the complex relationship between site and audience, the study also revealed that measures such as dwell time and frequency of visit are not as indicative of engagement as previously thought.
Instead, the research identified five key dimensions of engagement for users: its trustworthiness (recognition of and confidence in a brand); its authoritativeness (consistent, reliable thought-leadership); its uniqueness (original content); its community (featuring like-minded user forums); and how entertaining the site is.
The study also suggests there are three key characteristics of advertising behaviour: trust (consumers who particularly trusted the site brands they used, were more likely to trust the brands advertising on these sites – and more likely to respond to advertising on these sites); action (consumers were more likely to click on advertising links and/or purchase from sites they trust), and awareness.
The results of both studies suggest a marked evolution in the way to view advertising engagement online, outside of the established metrics.
The study involved a survey of 1,340 interviews via an online panel, from 13-20 October 2010, with UK respondents only.