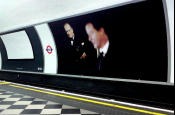 The teaser campaign featured images on a black background with no branding or indication of the advertiser which were posted on ticket barriers at over 70 commuter stations across the capital with a series of half page advertisements also running in The Financial Times, The Independent, City AM, Metro, thelondonpaper and The Times.
The sites will be reposted today revealing that The Times is the advertiser behind this campaign, the first for more than 50 years that it has run without an end line.
Katie Vanneck, sales and marketing director of Times Media, said: 'The Times is one of the world's most famous brands, it does not need explanation. We want our readers to make up their own minds about what the paper means to them.'
The campaign, which will run for a further six weeks, was devised by CHI & Partners, Times Media's creative agency, and by global brand consultancy venturethree. Media buying was handled by MindShare.