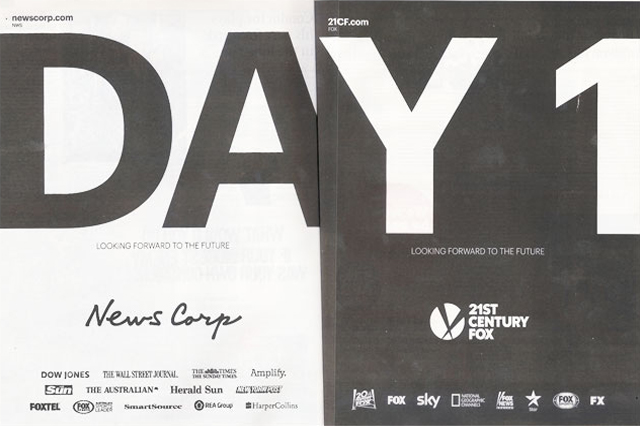 The ad, on page 16 and 17 of today's paper, features the text "Day 1" in large type across the two pages. The text on the left page is black on a white background, while the text on the right is white on a black background. Each page includes the words, "looking forward to the future".
The left-hand page includes the new News Corp logo above a list of brands including The Wall Street Journal, The Times, Amplify and HarperCollins. On the right, the new 21st Century Fox logo is positioned above a list of company graphics, including Fox, Sky and National Geographic Channels.
Last week News International, which owns The Sun, The Times and The Sunday Times, changed its name to News UK, ahead of Friday's split.
Robert Thomson, the new chief executive of News Corp, said: "We are continuing a proud tradition and fashioning a prosperous future in the new News Corp. We have a valuable collection of complementary companies and our task is to make the new News more than the sum of these distinguished parts.
"We have a robust balance sheet and a team of creative, energetic and passionate employees who are determined to make the company a resounding success and to make a positive difference in their communities."
Rupert Murdoch, the chairman and chief executive of the old News Corporation, has taken the role of chairman of the new News Corp as well as chairman and chief executive 21st Century Fox.
Murdoch said: "21st Century Fox launches as a unique force bringing news and entertainment to more than a billion customers every day in over 100 languages. Our success will continue to be rooted in a deep belief in originality and a commitment to empowering creative minds and entrepreneurs around the world.
"Our management teams are the best in the business and we will drive growth and shareholder value by expanding our existing assets and brands, while embracing new opportunities and technology."