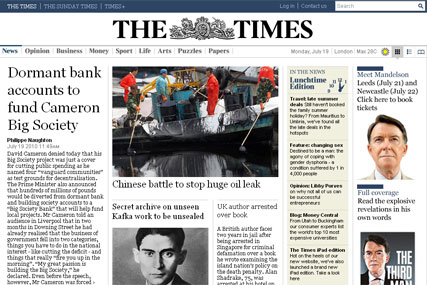 According to figures from Experian Hitwise, the biggest fall in traffic at the Times website was when consumers were asked to register, before the paywall was erected on 2 July.
In the five-week pre-paywall period, traffic dropped 58% between 22 May and 26 June. In this period, The Times' share of UK traffic fell from 4.37% to 1.83%.
However, the figures following the paywall installation make better reading for Rupert Murdoch, the boss of parent group News Corporation.
In the week after charging began on 2 July, the rate of decline was less severe. According to the data, between July 3 and July 10, the traffic dropped to just 33% of the pre-registration level, which was equivalent to 1.43% of the market.
The data, however, does include users who arrive at the Times site, but do not pay. However, it is thought that average visit times on the TheTimes.co.uk and TheSundayTimes.co.uk had remained fairly constant.
News International declined to comment.