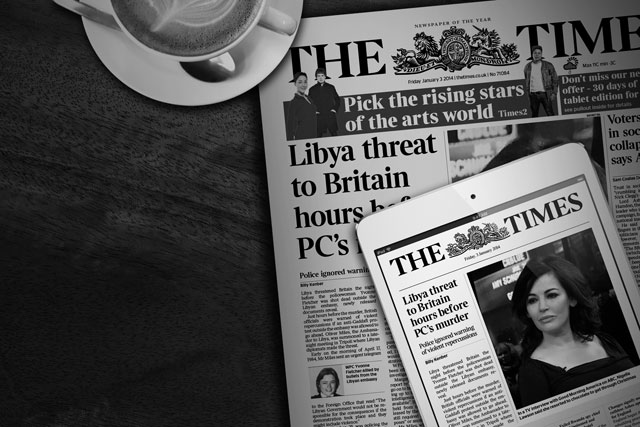 Operating profit for the News UK publisher for the year to 30 June 2014 follows The Times and Sunday Times famously moving behind an online paywall in July 2010.

Prior to the paywalls, Times Newspapers posted annual losses of £70 million for 2009. News UK has been reducing costs year on year ever since, and last year recorded a loss of £6 million.

Members are now paying £6 a week for seven-day print or digital membership packages. At launch, digital members paid just £2 per week.

The latest figures for October show total paid sales for The Times up year-on-year at 545,000 and The Sunday Times at 958,000. Membership accounted for 291,000 (54%) and 338,000 (35%) of total paid sales respectively.

Across both titles there has been a 10% growth in membership to 390,000, as at end October, comprising 170,000 members taking our digital only product, up 12% year-on-year, and 220,000 members taking a combined print and digital product, up 9% year-on-year.

Mike Darcey, chief executive of News UK, said: "Our strategy of charging for our world-class journalism is working. Our approach has allowed us to invest in our titles and our people with confidence, creating an unbeatable experience for our readers and they have responded positively.
"We have pioneered digital subscriptions, created a solid customer base and continue to secure a sustainable future for our titles. The publisher states growth has been achieved while moving premium digital members to price parity with our print membership."

Growth in total paid sales has also left both titles less dependent on advertising and consequently made revenues less volatile. For the 2014 financial year total paid sales represented 51% of TNL revenue compared with 44% coming from advertising.

News UK claims the figures prove the paid-for strategy is "working well" and is helping to secure a sustainable future for the papers.

The acquisition of sports rights such as the offering of Premier League, Scottish Premier League, Premiership Rugby, cricket, Gaelic football and hurling is reported to have contributed to the success of both papers, as have improvements to the online editions and apps.

News UK continues to enhance these offerings, including through the acquisition of the rights to show highlights of the Champions' League beginning in Autumn 2015.

John Witherow, editor of The Times, said: "For the last 230 years The Times has provided the highest quality journalism at a fair price, and that is why readers of all ages continue to read us every day. We have invested a huge amount of time and energy into putting the Times on a sustainable footing which is the best way to ensure we can continue to produce world-class journalism.

"Our agenda-setting reporting and writing and our award-winning commentators and columnists, complement a dynamic digital team dedicated to improving what we do wherever and whenever people choose to read us. The Times has a bright future."

Martin Ivens, editor of The Sunday Times, said: "It has been an incredible year for The Sunday Times with our journalism having a huge impact at home and abroad whilst subscriptions steadily grow.

"Whether it's great scoops like blowing the lid off FIFA's World Cup bidding process, our Scottish referendum survey that panicked the politicians, or a new angle on the week's stories, people turn to our team for the award-winning reporting and comment that challenge, provoke, entertain, inspire and inform them."

The financial figures were published in the Times Newspapers Limited accounts filed at Companies House yesterday, Monday 1st December, and presented to its board today.