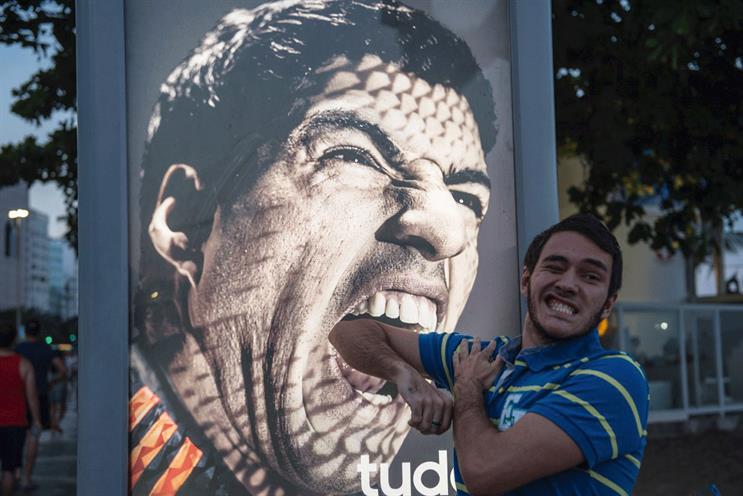 Tell us about the Adidas project. The creative itself, involving portraiture with projections and intense lighting, was in line with my own work. It seemed like a fresh direction that would play out strongly and simply across all these varied elements of a campaign – I felt they had come up with something iconic. When getting creative briefs, you have to consider if you, as the photographer or director, can bring something to elevate it – in this case, I felt I could.

Which footballers did you shoot? Many, many players over weeks of shooting and travelling. Some of my favourites were Steven Gerrard, Lionel Messi, Oscar, Manuel Neuer and Karim Benzema.

How did you get them to perform such striking poses? There were other elements photographed by amazing sports photographers, but I come from a fashion/portrait and music-video background, so the creative take was to make it feel more in the surreal, dramatic, stylised world of those aesthetics. We felt this was a new take on the bog-standard footballer pose. To create the proper setting, we had a black box built with projectors, blasting out hip-hop music and generally having an atmosphere more of a club than a football pitch.

What did you think when you saw your poster of Suárez hitting the headlines? That was interesting, of course, seeing people entering your image and recontextualising it. The general public is more creative than they are given credit for! Suárez was fantastic to shoot – beautiful one moment, then a face full of intensity the next. Most of these portraits are taken quite close up to give it an intimate feel.

Of which photograph are you most proud? From this campaign, a series of images of Per Mertesacker doing "the robot". Either that or Dani Alves head-spinning.

What inspires you? People. Every subject brings a new perspective.

What's your next project? Working on a new book called Abstractions #1 due out at the end of the year.